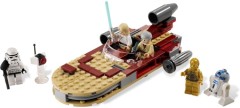 While out LEGO shopping this evening, I surprisingly ran across the brand new Family House (8403), and at Target no less. In addition, they had put out many of the new City and Star Wars sets. This seems like a good opportunity to review which current sets are exclusive to which U.S. retailers. (Note: I'm sure I'm overlooking some sets, so definitely let me know).
TOYS R US
Count Dooku's Solar Sailer (7752)
Home One Mon Calimari Star Cruiser (7754)
Republic Swamp Speeder (8091)
AT-AT Walker (8129)
Farmer (7566)
Tractor (7634)
4WD with Horse Trailer (7635)
Combine Harvester (7636)
Farm (7637)
Pig Farm & Tractor (7684)
Wind Turbine Transport (7747)
City Public Transport (8404)
Toys R Us City Truck (7848)
Shadow Snapper (8079)
Garbage Truck Getaway (7599)
Alien Space Ship (30070)?
TARGET
Pirate Tank (7753)
Cad Bane's Speeder (8128)
Off-Road Fire Truck & Fireboat (7213)
Family House (8403)
Undersea Explorer (8080)
Pizza Planet Truck Rescue (7598)
Octopus w/ treasure ring (30040)
Le Mans Racer (7802)
WALMART
Luke's Landspeeder (8092)
Midi-Scale Imperial Star Destroyer (8099)
Helicoper / Limousine (3222) ?
Commenting has ended on this article.