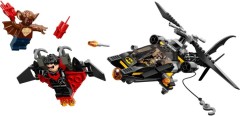 Brickset member Legoguy is currently living in the Middle East and has been able to buy some 2014 sets already. He's sent us scans of those he's bought which I've added to the database and you'll see in the 'new in the database' list above.
Highlights are this set 76011 Batman: Man-Bat Attack, 75042 Droid Gunship, 70127 Wolf Legend Beast and 41051 Merida's Highland Games from the highly anticipated Disney Princess line.
And, LEGO has published pictures of the Ninjago sets on their server already which I've also added. (Thanks Isoler).
Discuss!
Commenting has ended on this article.