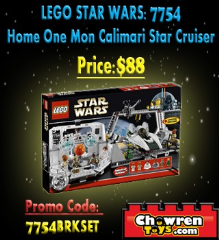 Jason from Chowren says "Our November promotion for Brickset readers is as follows:
"Star Wars 7754 Home One Mon Calamari Star Cruiser for just $88. This works out to be 20% off US MSRP. All you need do is enter promo code: 7754BRKSET at the check-out to get this price. There are total of 50 available and they are limited to 6 per customer, while supplies last. This promotion will run until 11:59 pm (US West Coast time) Sun. Nov. 10, 2013. Just like previous promotions, you'll need to have registered an account in our store in order to use this code.
"All buyers please look over and read the notes in the shipping chart before you make your purchase. Please note this is just an approximate shipping charge, but it shouldn't be too far off from the actual charge. As with previous promos any overcharge on shipping will be refunded."
Commenting has ended on this article.