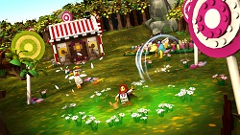 Funcom has recently opened registration for the closed beta of the upcoming LEGO Minifigures The Online Game. The sign-up page asks for your age and email address, and says that a select few will be chosen and contacted through email to participate in the closed beta period.
The Closed Beta will progressively add more testers as more content is added to the game, leading up to the launch expected next year. An Open Beta period will be added prior to the launch of the game to allow even more testers to participate in the game.
LEGO Minifigures The Online Game is a massively multiplayer online game featuring many, if not all the Collectible Minifigures that have been released. The game was announced a few years ago, after the closure of LEGO Universe.
Commenting has ended on this article.