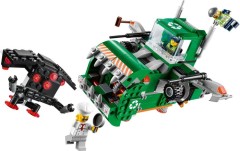 I suspect the The LEGO Movie microsite has been live for a while but it's only just been brought to my attention. It seems they are revealing a set every so often on there and today it's 70807 MetalBeard's Duel.
(Some people have complained about me posting 'spoilers'; if that's you, stop reading now!)
Sets still to be revealed are covered in a red cloth but a quick and easy change to their image URLs (discovered by a forum member who shall remain anonymous) will show the set in all its glory.
So, I've added the images here although I suspect LEGO would rather I didn't. But, they aren't watermarked and have been published by their web team on a public server so I think they are fair game. Feel free to discuss this point though if you disagree.
(Update: I see Eurobricks has published them following the same discovery by one of their members, so the cat is well and truly out of the bag now...)
Commenting has ended on this article.