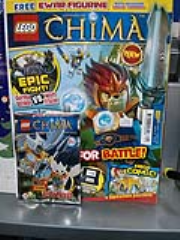 A new kids' magazine has been launched this week in parts of Europe including the UK and Poland. It has a free Ewar minifig on the cover. I haven't seen it myself yet but I'm just off to WHS to see if I can find one. The price, in the UK, is £3.25.
Is it available in your country as well?
Thanks to BrickFanatics for the news and image.
Update: I have a copy, from Tesco. The text on the back of the bag the figure comes in suggests that it's available in UK, Germany, France, Poland, Russia, Belarus, Kazakhstan and Ukraine.
The minifig is a 'genuine' one, but is different to that shown on the packet: it has silver armour shoulder pads and not gold. This makes it a unique figure.
Commenting has ended on this article.