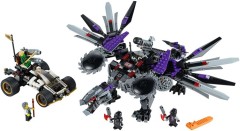 It's only the first week in November so it seems a bit early to be seeing next year's sets in the shops already, but Jason over at the Brick Show has posted video reviews of Ninjago sets, including the Nindroid MechDragon, on YouTube.
I believe they were found in TRU so it might be worth checking out your local branch over the weekend if you're in the USA.
Commenting has ended on this article.