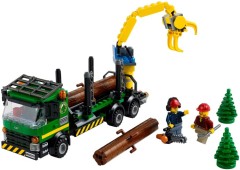 At this time of year, retailers around the world jump the gun and publish pictures of next year's sets before they should do. Among the first to do so this year is Walmart.ca which has provided us with pictures of most of the City sets known so far, a couple of Friends sets, and also the Juniors sets. I've added the City and Friends ones here and will extract the less interesting ones tomorrow, as it's a bit of a palaver to do so.
Being a fan of 'great vehicles' (as LEGO likes to call them), the best of the City sets in my opinion is this 60059 Logging Truck. The Police sets look to be 'more of the same' but I'm sure some of you will find something interesting amongst them.
Thanks to Ypres for the news.
Commenting has ended on this article.