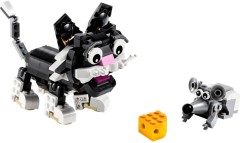 We might have expected Walmart.ca to be asked by LEGO to remove their images of 2014 sets following their discovery the other day, but it seems the opposite has occurred - they've now published more: Friends, Disney Princess and Creator.
These are the first images of most of these sets to have surfaced and I think you'll find many of interest. I predict the Disney Princess sets will fly off the shelves. There are some great Creator sets too and I'm particularly lovin' this Furry Creatures one. However, those that were hoping that Emerald Express was to be a set to rival the Emerald Night will be sorely disappointed...
Commenting has ended on this article.