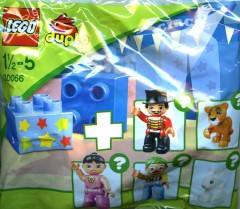 As many of you will know first-hand, collecting polybags is one of the more fun, and challenging, aspects of the hobby. I thought it would be useful to look back on the polybags released this year and consider which ones turned out to be the rarest and hardest to get, based on the number of people who have marked them as owned here at Brickset.
So, by my reckoning there were 59 polybags released in 2013. Here are the rarest:
40073 Panda: This is similar to 30026 and it's likely that it's been made for the Chinese market and available only from there. A pretty reliable indicator of whether a set has actually been released is if any have been sold through BrickLink, and in this case, none have so it looks as if it is yet to be sold anywhere.
30066 Duplo Circus: We don't have any notes about the availability of this one, but I had a set of five of them sent over from Hungary earlier in the year. A small number of people have indicated ownership but that might just be because it's Duplo and nobody has gone out of their way to get it.
30184 Little Helicopter: Not many people have managed to find this one it seems, but it has just turned up packaged with three mini DK books in UK branches of Tesco for £5. Thanks to Garethmoore for this piece of information. There are some on BrickLink but they are commanding a high price so if you need it you'll be best getting it with the books.
30186 Christmas Tree: This one has apparently started to show up in Toys R Us in the USA and thus can easily be obtained on the secondary market if you're not in the US.
So, which of the 59 don't I have? I've still to take delivery of Kraang's Turtle Target Practice and Robin and Redbird Cycle (thanks Kempo81...) which will leave just the panda, the Christmas tree and the Iron Patriot gun mounting system to track down. Maybe you can help? :-)
How about you? How many do you still need to get hold of? Which ones have you found most difficult to find?
Commenting has ended on this article.