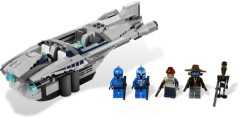 Per this week's Target ad, all LEGO Star Wars sets are on sale. While most sets will most likely be discounted by only 10%, Target will be selling the Droid Tri-Fighter (8086), Freeco Speeder (8085) and the brand new Plo Koon's Jedi Starfighter (8093) for just $19 each. This is also a great opportunity to pick up the Target exclusive Cad Bane's Speeder (8128).
Update: It now appears the discount will only be 5%. I'm not sure I have ever even seen a 5% sale before.
Commenting has ended on this article.