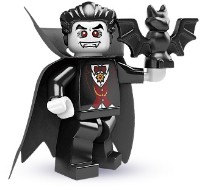 As widely reported in the news comments here at Brickset, and also through all the emails we've been receiving, the Series 2 Collectable Minifigs now appear to be available throughout the UK from W.H. Smiths news agents.
My personal experience is that the box was held behind one of the till areas in the store. There was no limitation on the number of packs I could buy, but I *wasn't* able to examine the packs beforehand so I couldn't check the barcodes & select the ones I wanted to get a full set. From 16 packs I bought I got 10 unique figures, which I feel was pretty good. They were £1.99 each.
Happy hunting !
Commenting has ended on this article.