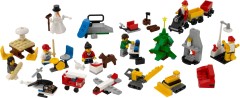 Several people have reported the availability of the 2010 City Advent Calendar in the US. Chris "Reasonably Clever" Doyle has acquired one and is busy documenting the contents on his Flickr account; click the link to see details.
It seems a little early for this year's Advent Calendars to be available, it being over 3 months (thats 1/4 of a year) until you're supposed to start opening them, but they tend to sell out quickly in the US, so I wouldn't hang around too long if you want to get hold of one of these lovely sets!
Commenting has ended on this article.