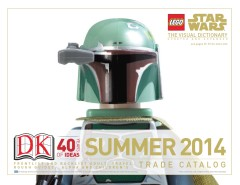 Penguin books has just published its catalogue of DK book releases for the first half of 2014. There are four notable LEGO books, along with 'hundreds' of kids reading/activity/sticker books which I won't list here. They are:
- Star Wars Visual Dictionary, an update on the first edition, published in 2009.
- Friends Character Encylopedia, surely that'll only need a dozen pages or so, but it's listed as having 208!
- Ninjago Brickmaster, which is apparently updated and expanded, and strangely it seems to feature skeletons which are, like, so 2011...
- Legends of Chima: The Secret History, follow the epic story of the Legends of Chima minifigs...
I'm sure they'll be great and I'll no doubt buy them all, but I'm getting a feeling of 'more of the same' from DK, who are not showing the same innovation as, for example, No Starch Press. I suspect the official LEGO licence prevents it.
Via Hoth Bricks.
Commenting has ended on this article.