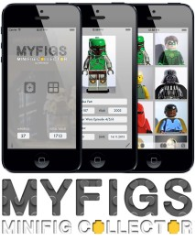 Version 1.2 of this iOS app has just been released:
"The MyFigs Minifig Collector is for LEGO fans and minifig collectors of all ages. It is fun and easy to use, and it is all about your own personal minifig collection.

"Some LEGO minifigs are rare and highly collectable, others just have great design. I know that collectors value their precious minifigs and often store them in bags or boxes, safely away from sunlight and dust. Now you can add all your new minifigs to the MyFigs Minifig Collector and always have them just a few taps away.

"The whole idea behind the MyFigs Minifig Collector is for you to create a minifig page with a photo of your minifig, along with information like name, item number, value etc. So if you are a collector of custom minifigs or any other theme, this app is perfect for sorting your minifigs by name, theme or value.

"Last but not least, the MyFigs Minifig Collector will also keep track of the total number and the total value of all of your minifigs."
Developer Runar has created a promo video that showcases the app and has also given me 10 promo codes to enable the app to be downloaded for free. As I no longer have an iOS device (I ditched my iPad in favour of a Nexus tablet), I'm giving them all away to you. (Update: all codes have now gone!)
Commenting has ended on this article.