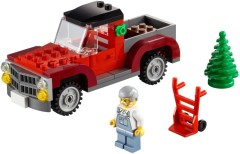 Free from shop.LEGO.com today only, for VIP members with a qualifying purchase, is the Holiday Set 2 of 2 - Christmas Tree Truck.
I've already got my order in - seeing as New Zealand is one of the first countries in the world to see in the new day, and there's nothing like ordering in a few early Christmas presents for one's self!
And there's free shipping too for orders over the qualifying amount...
Commenting has ended on this article.