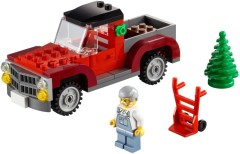 As Grahame mentioned yesterday, VIP members have early access to next weekend's Brick Friday offers today.
The offers in the UK are:
10% off all orders of £100 or more.
Free Limited Edition Christmas set, 40083 with orders of £50 or more.
Free delivery on all orders of £25 or more.

Click on the Christmas shop banner above to start shopping.
There are also some decent discounts to be had:
3844 Creationary 40% off
3865 City Alarm 40% off
3866 Star Wars – The Battle of Hoth 40% off
3920 The Hobbit – Unexpected Journey 40% off
9491 Geonosian Cannon 20% off
10227 B-Wing Starfighter 20% off
10240 Red Five X-Wing Starfighter 10% off
50006 Legends of Chima 40% off
70002 Lennox' Lion Attack 20% off
70108 Royal Roost 20% off
79010 The Goblin King Battle 20% off
79106 Cavalry Builder Set 20% off
79111 Constitution Train Chase 20% off

The offers in the USA are:
Triple VIP points and free shipping on all purchases.
Free Limited Edition Christmas set, 40083 with orders of $99 or more.
Free Clone Trooper Lieutenant polybag, 5001709 with Star Wars orders over $50.
Offers in Canada and the rest of the world are similar, I believe. If you're in Germany, you'll see we now have an affiliate banner for shop.LEGO.com above. Buy your sets via the banner and you can help keep Brickset online and free for everyone.
Commenting has ended on this article.