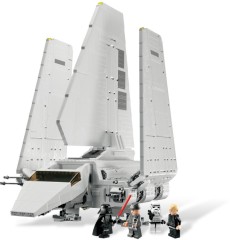 A day earlier than expected, and just in time to make it under the wire for the free shipping offer in the UK (finishes tonight, 31st August, so get ordering), the UCS Imperial Shuttle is up now for immediate shipping from LEGO Shop online in most regions.
A quick skip through the various countries & it looks like it's available to order across Europe & Australia/New Zealand. but not the US, Canada or South Korea just yet ... keep an eye on the pages, as it won't be long now! As is common with the larger sets, customers are limited to ordering a maximum of 5 ...
Thanks to DrDaveWatford & keithkram for the heads-up !
EDIT - that didn't take long; a couple of hours later & they are available on the US & Canadian sites too!
Here are the links to the shop: USA | UK. Remember if you order through these (or any other link on this site) Brickset gets a small cut that helps keep it running.
EDIT - Just as the UK free shipping offer ends, a US & Canadian offer starts ! Between now & 19th September, LEGO Shop online are offering free shipping on all orders over $75 (US or Canadian); check the website for all the clauses & conditions.
Commenting has ended on this article.