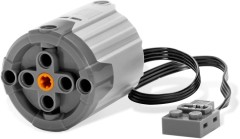 When the prices for the Power Functions were announced in the latest S@H catalogue, I was surprised how cheap they were. It would appear that LEGO were too once they'd re-done their calculations because the prices have increased considerably already. For example, the XL motor is listed at £3.99 but now costs £7.99.
However, if you're quick you can still order them at the old prices: Simply click-through from here, add them to your cart, then use catalogue code EJ99 or EJ80 when you check-out. You should find that the prices are reduced to the old level.
This will only work until the end of March when another catalogue is released.
Commenting has ended on this article.