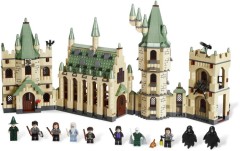 Not quite sure what to make of this ... we've had a number of people email in over the last couple of days about the apparent availability of the new Harry Potter sets from Tesco Direct, for next day delivery. This is a little earlier than we were expecting, and Tesco isn't one of the normal 'early shipping' sources, so I've held off posting the news in the hope that we might get confirmation one way of the other ...
So, anyone ordered any of these sets from Tesco Direct, and have you received them yet ?
EDIT - seems to be legit folks! We'd been told these sets weren't going to be released until October, so this is pretty early!
Commenting has ended on this article.