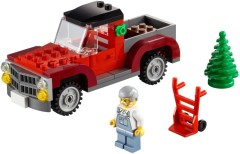 First off, I hope everyone who celebrates it had a great Thanksgiving yesterday. The site, and my inbox, was unusually quiet...
Now it's over, it's time to go shopping! LEGO has lined up some great offers for the weekend so if you didn't bag your exclusive free 40083 Christmas Tree truck last weekend during the VIP event, now's the time to do so.
To start shopping, please click on the banner at the top of the home page so that sales are attributed to Brickset as everything you buy through our links, keeps the site online and free for all.
The offers are as follows:
In the UK:
10% off all orders of £100 or more.
Free Limited Edition Christmas set with orders of £50 or more.
Free Delivery on all orders of £25 or more.
In addition, there are discounts on the following sets:
10226, Sopwith Camel, 20% off.
10240, Red Five X-Wing Starfighter, 10% off.
75023, SW Advent Calendar,20% off.
75007, Republic Assault Ship, 20% off.
75008, TIE Bomber, 20% off.
79001, Escape From Mirkwood Spiders, 20% off.
3866, The Battle of Hoth 40% off.
79010, The Goblin King Battle, 20% off.
In the USA and Canada:
Free Limited Edition Holiday Set with purchase of $99 or more.
Free $10 Gift Card with purchase of $149 or more .
Free Shipping on all orders.
Receive a Free THE LEGO® MOVIE™ poster sticker to customize your Palace Cinema.
Free Exclusive Clone Trooper™ Lieutenant with LEGO® Star Wars™ purchases of $50 or more!
In addition, a whole host of sets have been reduced by up to 50%. Check out the Sales and Deals page to see what's still available.
Commenting has ended on this article.