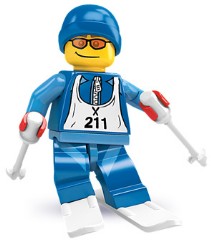 Thanks to the headsup late yesterday from roar15, I checked a few of our local Targets this morning and did indeed find Series 2 Minifigures in the Halloween section. They are $1.99 and there is no limit, unlike Toys R Us (now $2.99 and limit of 2 at some stores) or Borders ($3.99 but no limit). If you happen to have an empty Series 2 wrapper, just scan at any of the PRICE CHECK scanners located around the store and it will tell you where they are located and if there are any in the storeroom. It appears each of the stores I visited had only 2 boxes, though 2 of the stores had yet to put out their Halloween supplies so the Minifigures were still in the stockroom. The third store, however, had already put out its 2 minifigure boxes but the boxes had already been pretty well picked through. It's also unclear if Target stores will be replenishing these minifigures once these first boxes are depleted, so don't dilly-dally. :o)
UPDATE: It appears that many Targets have not yet put out their Halloween merchandise, including the minfigures. It is my understanding, though, that most of these stores will likely catch up sometime this week.
Commenting has ended on this article.