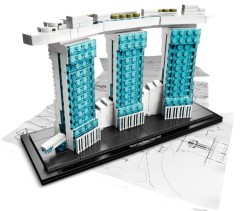 LEGO has just published PDF instructions for many of the January models, including Creator, Ninjago and City. Also among the updates is one for Architecture set 21021 Marina Bay Sands, the hotel/casino complex in Singapore, and two Hobbit polybags, 30215 Legolas Greenleaf and 30216 Lake-town Guard, the latter of which is now available in TRUs in the USA.
Just when us polybag collectors thought we had a complete collection.... :-(
Commenting has ended on this article.