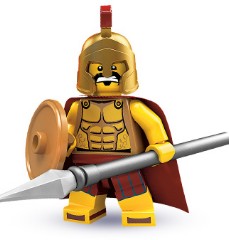 As I mentioned below I've been in London on a course (SharePoint, if you're intrested...) so had a bit of time to kill in the evenings. So, I thought I'd see if I could track down some figs, given that I didn't have any. For the benefit of others who might find themselves in London I thought I'd let you know where to look:
Argos: No London branches appear to have them yet
Game, Oxford Street has a tub of them around the tills, but far enough away that you can rummage without getting in the way. I bagged my first ones there: I didn't bother scanning codes but just looked for as many different ones as I could find. I bought 10.
WHS, Oxford Street also has a tub in the queue line but here there's no chance of rummaging as the store is so busy and you'd be right in the way
Hamleys: London's biggest toy shop charges extortionate prices for everything and the figs are no exception. Here they are £3. There were plenty by the tills and I suspect sucker tourists still buy them at that price...
John Lewis, Oxford Street: The toy depatrment is right up on the 4th floor but was worth the trip. There were at least a dozen boxes of them out on the shelves near the tills. As I'd bought those in Game the day before I knew exactly which ones I was missing so I took one of the least rummaged boxes over to a quiet area of the toy dept. and located the 6 I needed with the help of the Android 'Mini Figure' app. Funny thing was, the box contained no Spartans. Luckily I'd got one in Game the day before (and went back and found another) so I didn't need one but I had planned on stocking up. So, I grabbed another box and looked in it. Still no Spartans. By the time I had been through the fifth box I concluded that someone had beat me to it!
So, if you're in the area, head for John Lewis. In fact check your local branch as well. You might not find any Spartans but they've probably got plenty of others.
Finally, someone else was doing a bit of rummaging and fiddling with a mobile phone in JL while I was there (7pm yesterday) but had gone once I'd been through the tills. Was that you?
Commenting has ended on this article.