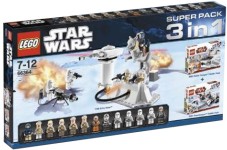 You'll notice from the 'New Additions' banner above that we've recently added a number of new entries to the database for 'Super Pack' sets, those 3-in-1 or 4-in-1 (or occasionally 5-in-1 or even 6-in-1) product packs that appear from time-to-time in the larger retailers like Toys-r-Us.
These are interesting packs, and can represent a nice saving over buying the included sets separately ... assuming you want them all in the first place. They present an interesting problem for us here on Brickset as they get little proper publicity, and we're largely reliant on them being spotted in-store and reported to us here or through other Lego websites. That also means the "box shots" are often quite poor quality.
The stand-out new 'super packs' for me are the two new Hoth-themed Star Wars packs, each containing 13 figs, #66364 and #66366. I haven't seen these on sale anywhere yet & we have no idea of the retail price, but they'd each make for a lovely surprise gift :-)
Commenting has ended on this article.