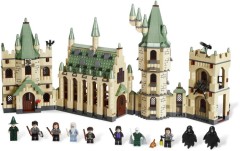 Thanks to Brickset member 'Midnight' who has contacted us to say that the Bluewater Lego store is now stocking some of the new Harry Potter sets. Specifically, they currently have #4840 'The Burrow', #4842 'Hogwarts Castle' and #4737 'Quidditch Match' on the shelf; a member of staff said the other sets would go out tomorrow.
We've checked the Milton Keynes store but they say they haven't received them yet; we haven't been able to check if Brighton has them yet.
Commenting has ended on this article.