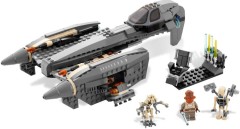 Beginning Sunday 9/26/10 and ending Saturday 10/2/10, Toys R Us is having a "20% Off" Sale on the following three Star Wars sets: Hoth Wampa Cave (8089), Grievous Starfighter (8095) and Plo Koon's Starfighter (8093). Please note though that this "20% Off" is applied on the new TRU price and not the MSRP. Thus your savings are moreso in the 10%, 12% and 4% range respectively. Toys R Us is also offering a $10 Gift Card with any $50 Star Wars purchase (outside of books and educational electronics) or a $5 Gift Card with any $30 Star Wars purchase under the same restrictions. The Gift Card deal is only available in-store but the discounts will also be available online.
While the Gift Card aspect makes this a much a more enticing offer, you can still probably find as good a deal if not better at Borders with one of their weekly coupons. With just their standard 33% coupon, you can get Slave 1(8097) at 22% off MSRP, Hoth Wampa Cave (8089) at 25% off MSRP, and the Emperor Palpatine's Shuttle (8096) at 17% off MSRP.
Commenting has ended on this article.