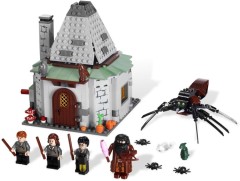 We're hearing that Harry Potter sets are now being shipped by LEGOshop.com and are indeed showing as 'available now' in the UK, a few days earler than their October 1st release date.
However, it may be worth holding off ordering them just yet as we're also hearing that during October LEGO is offering double VIP points online and in-store, which is effectively a 10% discount. Perfect -- that's just in time for the release of Tower Bridge!
Do you have the new Harry Potter sets? If so, let us know what you think by writing some reviews. Are they good value for money? I've had them for a while. I haven't yet built Hogwarts or Hagrid's hut but my verdict on the others is to buy them all but Hogwart's Express: They are expensive but the figs are excellent and the sets have a decent selection of pieces, particularly The Burrow.
Hogwart's Express has excellent figures but the train itself is atrocious: it's a very lazy design. The loco looks good above the solebar but the wheelsets are totally wrong and make the finshed model look like a cross between a steam train and a diesel. Why they didn't use the new large train wheels, I don't know. Maybe the target audience won't notice or care, but with a little extra effort it could have been superb: on a par with Emerald Night. A wasted opportunity...
Commenting has ended on this article.