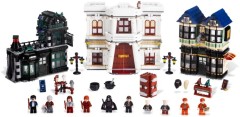 After two-and-a-half tiring days I'm finally back from Swindon, and just about ready for bed (it's just gone 11pm here) :-)
It was a fantastic event, made even better by meeting some of the Brickset regulars for the first time (DrDaveWatford and atksinsar to name but two)
If you didn't make it, or even if you did, you can read all about the goings-on at the official website, and I also encourage you to read today's GimmeLego blog entry in which DrDave discusses two particularly impressive models that were on display.
I'm also well chuffed that I won prizes in not one but two competitions over the weekend. My team of four (Myself, James S, Tim F and Duncan) won the speed building competition on the Saturday evening: 6 teams competed to build Sonic Boom set:5892 as quickly as possible. We each won a copy of the set! Then today, I came second in the drag racing competition with my Technic elastic band powered vehicle, completing the 10m course in just over 4 seconds. I was beaten by a young lad with nothing more than a standard pull-back motor powered car, by about 0.2 seconds! He chose the largest set which left me with the Empire State Building, 21002. What a shame :-) In third place was a Brickset reader Matt who had the fastest motor-powered car. Well done Matt!
Commenting has ended on this article.