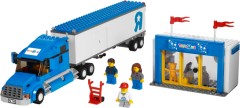 This week, Toys R Us is running another BUY 1 GET 1 50% OFF sale. However, this sale excludes Star Wars, Harry Potter, Space Police, Creator, Bricks and More, and LEGO Direct sets. As always, be sure to buy similarly priced sets in order to maximize the deal. Additionally, with a $20 purchase and while supplies last, you will receive a Retro Fireman Minifigure Magnet. Lastly, visit your local Toys R Us on Saturday October 23 between 12 - 2pm for their LEGO Bricktober 500 where you get to build, decorate, and race your own LEGO car. You also receive a free "LEGO" driver's license! :o)
Update: Online, the magnet is automatically added to your cart and trumps the BOGO50% deal unless you add a 3rd qualifying item to your cart. I thus recommend that you head to your local store where this will not likely be an issue. Otherwise, you can remove the magnet from your cart to claim the BOGO50% discount. This occurred with the double promotion last week as well so hopefully TRU can get this fixed prior to the upcoming Holiday season.
Commenting has ended on this article.