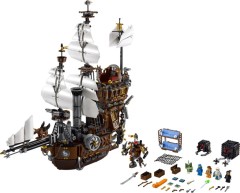 Hungarian online LEGO webshop legomarkabolt.hu has added a lot of second-half 2014 sets to its listings, including the return of Agents and City Arctic, City trains, Star Wars, Chima and more. They are listed in this list of unreleased 2014 sets. Set names are translations from Hungarian so won't be exactly right.
Via The Brick Fan and Eurobricks.
Meanwhile, this picture of a forthcoming LEGO Movie set has surfaced and is said to be a LEGO exclusive. There are pictures of others in a TLM book that's just been published. I don't have a copy yet so I can't provide better scans, so for now you can see photos of the pages at The Brick Fan.
Happy New Year!
Commenting has ended on this article.