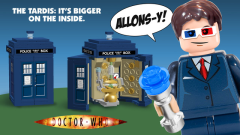 The Cuusoo Winter Review will consist of these sets:
Sherlock, Macross VF-1 Valkyrie, Legend of Zelda (#3): Iron Knuckle Encounter, Japanese Old Style Architecture, The Adventure Time Project,
And BTTF - UCS DeLorean Time Machine came in with a mere 8 minutes to spare.
Thanks to all the Bricksetters who helped carry the DeLorean into the Winter review and thanks to everyone who has contributed to the discussion on Cuusoo. Cheers!
Commenting has ended on this article.