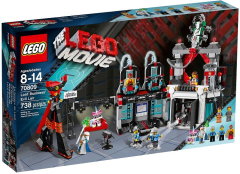 Today we near the end of our Brickset LEGO Movie review marathon with a whistle-stop tour of one of the larger sets in the theme, Set 70809 Lord Business' Evil Lair.
If ever there was an occasion when I really wished I'd had an opportunity to see the movie prior to reviewing a related set, this is it… As you'll see, there's a whole lot of crazy stuff going on in this set, and having to try and piece things together from press releases and snippets of information floating around the internet has, if anything, left me even more confused than I was before.
This is what LEGO has to say about the set: "Bwahahahaha! Welcome to Lord Business' Evil Lair! Record his broadcasts in the TV studio and plot how to control the world from the office. Lever open the large door and unleash the Kragle. Trap the Master Builders in the think tank to extract their creativity. Dodge the trapdoor to avoid being sent spiraling into infinity then pull the plug on the battery and shut down the think tank before Lord Business carries out his evil plan! Includes 6 minifigures with assorted accessories: Emmet, Vitruvius, Ma Cop, Pa Cop, Lord Business and wrestler/Master Builder, El Macho, and Biznis Kitty figure."
Clear now ? No, thought not….
Box and Contents
Having read a bunch of reviews of LEGO Movie sets over the past couple of weeks, not to mention writing two reviews myself, the box looks rather familiar at this point... It features the standard theme branding and logo, a relatively unmolested image of the set contents on the front, a summary of play features on the back, and a rundown of the minifigures contained within it on the upper edge.
Despite its status as the second largest offering in the first wave of LEGO Movie sets with a 738-element part count, we're nevertheless lumbered with thumb tabs rather than my preferred option of tape seals. Cracking open the box reveals five bags of elements numbered '1' to '5', a couple of instruction booklets, two loose silver metallic ribbed hoses, a sealed bag containing fabric capes (picture below) and a small sticker sheet. When I build larger sets, I've become used to finding instruction booklets and sticker sheets neatly bagged up and kept flat with a sheet of stiff cardboard, so it's disappointing to report that that isn't the case with this set. Thankfully neither the instruction booklets nor the sticker sheet were too much the worse for wear on this occasion.
Instructions and Stickers
The instruction booklets, numbered '1' and '2', measure approximately 20 cm square and run to around 60 and 80 pages in length respectively, give or take. Their covers are identical apart from the number in the bottom left hand corner and feature the same imagery as the front of the box.
Booklet '1' is pretty much entirely dedicated to building instructions, although inside the back cover is a QR code that takes you to an extended LEGO Movie trailer and a plug for "The LEGO Movie Experience" which is apparently "Coming Soon". In addition to the remaining building instructions, Booklet '2' also features a 3-page inventory of parts, a couple of pages (one of which is shown below) advertising other LEGO Movie sets, advertising for LEGO Superheroes, and 3 pages highlighting how to operate the set's play features.
The sticker sheet is mercifully small, containing only six stickers. None of the stickers are particularly challenging to apply, as it turns out. If we do have to put up with sticker sheets rather than printed parts, then I'd certainly complain a lot less if they were all as minimal as this one.
Elements
Most of the elements which caught my eye were either components of Biznis Kitty or President Business' giant outfit, both of which we'll get to shortly. There were also a few other parts of note utilised elsewhere in the build. These included a couple of the new 'A' frame plates in black which you can see here. The set also contains a couple of trans clear 2 x 4 foot plates, previously only available in green in two Toy Story sets back in 2010. Additionally, I got my first look at the new 2 x 2 round tile with a hole in the middle as the set contains one of them in dark bley.
Minifigures
The set includes six minifigures – Emmet, Vitruvius, Ma Cop, Pa Cop, El Macho Wrestler and President Business – or seven if you include the entirely brick-built Biznis Kitty.
Emmet appears to be absolutely identical to the version which appears in Set 70808 Super Cycle Chase reviewed by me here – the same facial expressions, torso and leg prints, "Piece of Resistance" on his back, and dodgy mini ponytail.
Vitruvius, who is apparently an ancient and heroic wizard, is currently unique to this set. Wizard or not, my first thought was that he looked like an old hippy in a tie-dye T-shirt and jeans wearing a white bathrobe. That's not to say I think he looks bad – quite the contrary, in fact – but it still tickled me to imagine Morgan Freeman (who voices Vitruvius in the movie) playing a hippy in a bathrobe ! Vitruvius sports a rather nice cape which is blue and shiny silver on the inside. I love his beard, which would also have suited Dumbledore perfectly, and his long white ponytail. His ghostly white eyes are somewhat unnerving, but once I remind myself that he's one of the good guys it's okay.
Ma Cop and Pa Cop, described by LEGO as "a pair of simple, honest country police officers", have similar (but not identical) torsos which lack back printing, and have plain unprinted black minifigure legs. Both have expressive, double sided head prints as you can see below, and they sport suitably age-appropriate hairstyles. Accessory-wise they're provided with just a pair of handcuffs and a torch between them.
President Business is the villain of the piece. Ostensibly he's an uptight CEO who fronts a successful business, but he's also secretly Lord Business, "the most evil of tyrants who oversees a robot militia and attempts to take over the LEGO universe" - oo-er… In his President Business persona, he wears a smart but fairly plain dark bley suit; his torso isn't back-printed, and his legs are similarly plain and unprinted. His snarling expression is entirely suitable given his position as pantomime villain, and I guess I'll need to watch the movie to discover what the back-printing on his head is all about. I assume that his hair is a new mould; I'd expected it to be rubbery when I first spied it, but it's actually hard plastic.
One of the more bizarre aspects of this set is the hilariously overblown outfit 'worn' (if that's the right word) by President Business. The lower half of this outfit consists of what looks like a pair of enormous platform shoes which attach to President Business' body by way of trans orange, trans red and black stilts. Covering the neck and upper torso is what appears to be body armour, which you might more typically expect to see adorning a robot or space marine (albeit without the red tie motif on the front…). The outfit is topped off by a massive headpiece which humorously features a couple of cups balanced on top. Hanging behind the outfit is an enormous red fabric cape which resembles a tie. As you'll have probably guessed by now, I'm struggling somewhat to make head or tail of it all; I certainly can't wait to see it on-screen when I go and watch the movie…
President Business is supplied with both standard dark bley minifig legs (which allow him to be built as a standard minifig as shown earlier) and some distinctly non-standard minifig legs to which a couple of newly-minted black elements have been glued, one to each foot. These black elements then attach at their base to other LEGO elements in the normal way, thus allowing the 'platform shoes' to attach and the legs to move independently. Like I said – bizarre...
El Macho Wrestler is apparently a LEGO Master Builder, and it seems that he's been captured by President Business in order to extract his creativity (sounds painful). His nicely-detailed torso is back-printed, and there's also some nice detailing on the front of his legs. His head features a printed mask design which matches the pattern printed on his legs. He doesn't have an alternative expression or any back-printing on his head, however. He's finished off by a white standard fabric cape which I couldn't seem to get straight however hard I tried. He reminds me a lot of the Super Wrestler from the first series of Collectable Minifigures.
Biznis Kitty is seemingly an incarnation of Unikitty and is unique to this set. Unikitty hails from Cloud Cuckoo Land and is half unicorn, half animé kitten; she is it seems one of the goodies, although how she comes to be in President Business' Evil Lair covered in mathematical symbols and wearing a pair of printed spectacles, I'll no doubt have to watch the movie to discover...
Biznis Kitty is almost exclusively made up of new and/or rare elements, some of which you can see in the picture below. The printed bright pink 1 x 3 brick and 1 x 3 arch are new and unique to this set, and the tail and bright light blue unicorn horn are also both new for 2014, and have only appeared in two sets to date. A number of the elements in the picture – the regular 1 x 1 plates, the round 1 x 1 plate and the cheese slope - have never previously appeared in these particular colours prior to this year. Finally, it's great to see the white round 1 x 1 plate with open stud appearing in this set; this versatile element is much sought after and isn't widely available as yet.
The Build
And so to the build. First to be assembled in President Business' Evil Lair are the boardroom and a boardroom table. According to the chart on the wall, President Business' Evil Corporation has been experiencing some impressive sales growth. The mysterious structures on the roof of the boardroom are next to be built; given that they accommodate a minifigure, and that El Macho the Master Builder is pictured inside one of these structures in the box art and promotional images, I assume that they are the aforementioned 'think tanks' which extract the creativity of any minifigure unfortunate enough to be placed within - yikes. There are some clever building techniques in evidence here, and I love the use of the silver metallic laser pistols in the base of these structures.
Next to be built is the fearsome Kragle plus the structure which houses it. The Kragle, it seems, is a dastardly device for gluing things together, and it transpires that it's through the use of this device that President Business will take over the LEGO universe. The Kragle is situated behind a couple of brick-built black doors; there's a neat mechanism which opens the doors automatically when the Kragle is pushed from behind, allowing it to protrude through the open doors, ready to launch its potent adhesive payload. The Kragle is fed from a big tube of glue which is suspended high above; the glue is transported by a long ribbed silver hose. Beneath the tube of glue is a diamond-shaped orifice which I assume is the "trapdoor to infinity" mentioned in the promotional materials. Falling through this trapdoor is to be avoided, apparently, otherwise it will be curtains. The Kragle is powered by a battery, and it's by disconnecting this, that the Kragle can be disabled.
The final part of the build is the TV studio where President Business records his broadcasts. It's very simple, consisting of a couple of black girders, two suspended lights, a TV camera and a rather nice-looking red sofa. There's a sign above the TV studio which asks the rather perplexing question "where are my pants ?"; once again I guess I'm going to have to wait until I see the movie to figure out what that's all about. The TV camera and sofa are shown in the picture below, along with the boardroom table mentioned earlier.
You can see how all the different components of the set come together in the picture below. If you look closely (click the picture to enlarge) you'll see that the Kragle has already claimed a couple of victims - Ma and Pa Cop have been stuck to the floor by a shot of glue cunningly disguised as trans clear foot stands. Meanwhile, Biznis Kitty reclines on the sofa in front of the TV camera, Lord Business stomps around looking ridiculous, and El Macho has all the creativity sucked out of him. So just an average day in the Evil Lair, then...
My Verdict
As previously stated, it would probably have helped a lot if I had seen the movie prior to building and reviewing this set. Having not done so, I obviously struggled to understand what was going on, and I didn't get the in-jokes. Even so, I still enjoyed building the set - it reminds me of a wacky, anti-hero take on the Batcave, which is quite fitting given that Batman also appears in the movie. I thought that the Kragle in particular was well done, and there were lots of neat little touches like the tube of glue, the battery and the TV camera.
Set 70809 Lord Business' Evil Lair contains 738-parts and has a retail price of £59.99 / US$69.99. I'm thinking that it might be a bit left-field for some, but it was certainly a fun build and it's well worth considering if you like what you've seen in this review.
Many thanks once again to the LEGO Community Engagement & Events Team for supplying the set for me to review.
Commenting has ended on this article.