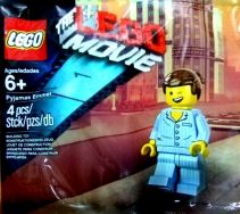 A couple of The LEGO Movie minifig polybags have surfaced on Eurobricks over the last couple of days while I've been faffing about with the new site, so apologies for the late news.
The one pictured is Emmet in pyjamas (yes, spelling is correct) and Groove Bricks has a picture of a DJ robot.
I haven't heard definitively where they'll be available although I think there's chatter in the forum about something being given away with pre-ordered tickets for TLM at Odeon cinemas, which could be these.
Fill me in if you can. I'll get them added to the database once we have set numbers.
Commenting has ended on this article.