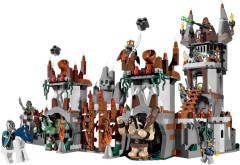 I'm not even sure when Black Friday is (is it the last Friday in November?) but I do know that in the USA you all go shopping crazy and there's loads of offers to be had.
Yellowcastle and I will try and keep you up to date as news of them comes in.
Good sources are www.blackfriday.info or www.bfads.net (Thanks shoobathelemur)
Target: (Beginning 4AM 11/26 and while supplies last): Galactic Enforcer (5974) and Trolls' Mountain Fortress (7097) each $64.99; Additionally, receive $10 Target Giftcard with $100 or more purchase (valid 4AM thru 10AM 11/26)
Toys R Us: (Valid 10PM 11/25 thru 1PM 11/26): City Garage(7642) $70.34, Gateway of the Squid (8061) $28.13, and Hyperspeed Pursuit (5973) $38.49.
Toys R Us: (Valid 5AM 11/26 thru 1PM 11/26): Creator Family Home (6754) $41.99, Police Command Centre (7743) $34.99, Power Miners Titanium Command Rig (8964) $73.49, Duplo Fire Station (5601) $41.99
K-Mart: (No Info Yet):
LEGO Stores: (11/26 while supplies last; store hours vary): Receive a Discount Scratcher at checkout worth 10%, 20%, or 50% off of your purchase
Commenting has ended on this article.