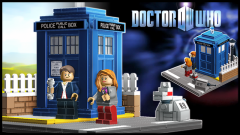 Last August, Senteosan uploaded an amazing Jurassic Park project to Cuusoo. Since then, Jurassic Park was barred from Cuusoo (due to a licensing conflict) but Senteosan relaunched his T-rex as, well, a "generic" dinosaur project.
Yesterday Senteosan uploaded their second project, Bricksauria | Stegosaurus which is sure to please any dino fan.
This new offering appears to have a lot more posability, and stability, than the T-rex predecessor but manages to pull this off without sacrificing the great, organic feel that is very tricky to pull out of these bricks.
The T-rex does however, have the better head, hands down. That is not a knock against Senteosan's work, as I think the Stegosaurus head is a very clever use of brick, but relative to the T-rex, there is really very little real-estate to be clever with.
A Finer Diner
Diners are rather popular on Cuusoo and often in the modular style. Usually I don't have much to say about them. They tend to be pleasant to look at and iconic Americana, but Nathan's American Diner really stands out with its astounding internals.
There is a wide array of well detailed diner elements ranging from a napkin dispenser to a grill vent. The real marvel though is the jukebox. I have never seen one so exquisitely rendered in brick.
Tiny Pirates!
For my personal Cuusoo blog this week I have selected the miniature 6285 Black Sea Barracuda by Bangoo as my favorite new project of the week.
I picked it based on a lot of personal preferences though. I love the pirate line as well as homage builds and micro-builds. Fundamentally I also like the idea of having appropriately scaled LEGO builds for display on desks and such, and this checks all those boxes.
I am very curious as to what the Brickset crowd thinks of this build though. I was extremely surprised by the huge turn out for The Scorpion's Soul so I am wondering if this response is only reserved for super-sized vessels or do these tiny ones also appeal.
Commenting has ended on this article.