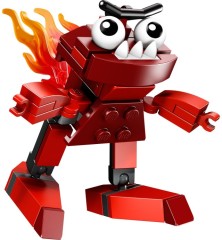 Now the server issues are sorted, I'm playing catch-up this week, adding new images and sets that surfaced last week.
LEGO has added images of the series one Mixels to their cache in preparation for their availability later this month. The Canadian LEGOshop pages suggest they'll be shipping from 17th February.
An image of 21020 Trevi Fountain appeared at various blogs, having been photographed at the German toy fair.
We have a set number for Pyjamas Emmet now, so he's in the database. Apparently, he is to be available as part of a UK Daily Mail promotion in the coming weeks, according to a Toys R Us employee.
I don't think the similarly packaged robot DJ has turned up anywhere yet, has he? (Update, he is going to be given to be AMC Stubs members (whatever they are) in the USA.
Have I missed any others?