In The News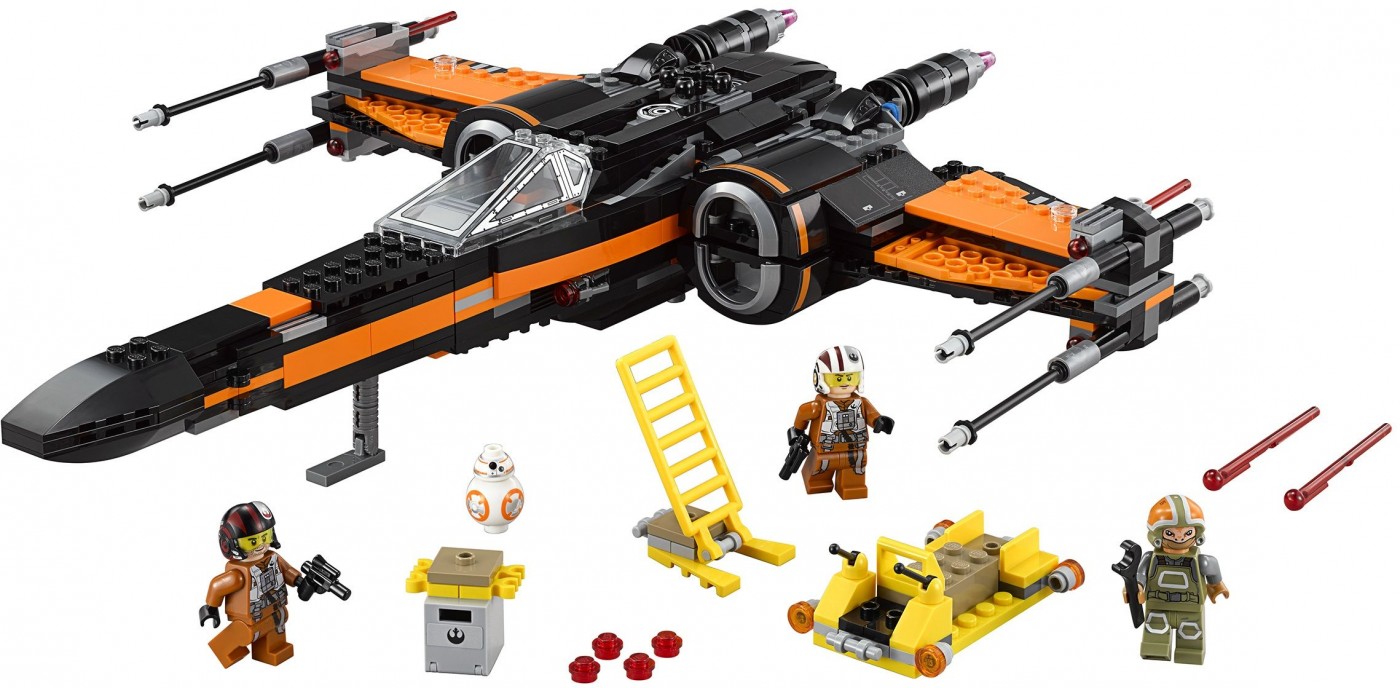 The global merchandise event for Star Wars: The Force Awakens is taking place today and the first LEGO set has been officially unveiled. 75102 Poe's X-Wing Fighter is priced at £69.99, $79.99 or €99.99 and contains 717 pieces as well as four minifigures.
This reveal took place in Seoul, South Korea and there are more taking place throughout the day, so we will wait and see whether any more LEGO Star Wars: The Force Awakens sets are revealed before their release tomorrow. If you want to keep up live with this global event you can do so on the Star Wars YouTube channel.
You can read the set description and find box images after the break...
75102 – Poe's X-Wing Fighter™
Battle the forces of the First Order with Poe's X-Wing Fighter. This customized starfighter is packed with features, like the 4 spring-loaded shooters, 2 stud shooters, retractable landing gear, opening wings, opening cockpit with space for a minifigure and space behind for the BB-8 Astromech Droid. There's even a loader with tool rack, extra ammunition, and a seat for a minifigure. So climb the access ladder, strap in and get ready to recreate your own great scenes from Star Wars: The Force Awakens! Includes 3 minifigures with assorted accessories: Poe Dameron, Resistance ground crew and a Resistance X-Wing Pilot, plus a BB-8 Astromech Droid.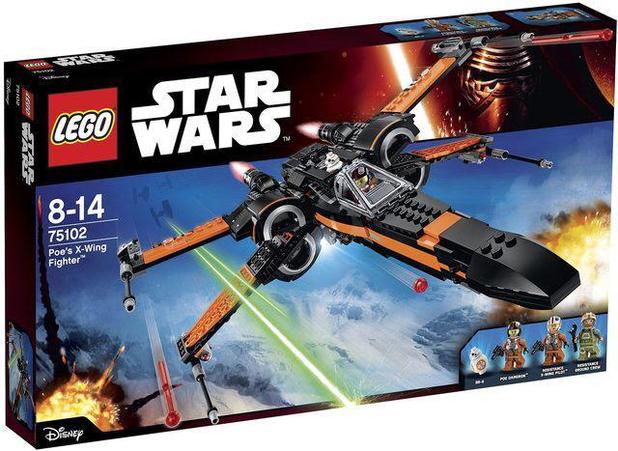 View all discounts | Compare Amazon prices | Hide these alerts | @BargainwatchNA
The LEGO Group delivered a turnover of DKK 14,142m in the first half of 2015, in addition to expanding its factories around the globe and significantly increasing investments on the responsibility agenda. First half sales were driven by double-digit growth across all geographical regions and strong product innovation on themes such as LEGO® Ninjago, LEGO Elves and LEGO Creator.
"We are pleased that we have again been able to develop exciting and fun play experiences that really appeal to children all over the world. A strong performance across the entire product range enabled us to deliver a highly satisfactory result for the first half of 2015. It is a great achievement and a result of the hard work of more than 15,000 LEGO colleagues around the world. This is especially encouraging since we compare to 2014 when The LEGO® Movie™products boosted our performance. While it is still early to estimate full year results, we expect another satisfactory result for the full year," says Jørgen Vig Knudstorp, President and CEO of the LEGO Group.
Read more at LEGO.com, from where you can also download the Financial and Responsibility Highlights, as well as compare the current results to those of 2014.
The last few days of LEGO news have been dominated by discussion of 21303 WALL•E and its patchy availability worldwide. It is a great shame that such an impressive set has incurred so much negativity, although not without good cause as there is a significant flaw in the design of the model.
There has also been some confusion about what exactly is wrong with the set. This has been exacerbated by an email currently being distributed by LEGO customer services which refers to 4265484 and 4211695 as the pieces needed to resolve the issue, contrary to the known problem. Hopefully we can clarify both issues now.
WALL•E's neck consists of four joints, three of which allow you to angle the head vertically while the other allows horizontal rotation. It is this rotational joint which is causing an issue as it does not have enough friction to keep the head in position. Instead it rotates freely, thereby restricting the poseability of the figure.
However, to complicate things further LEGO customer service has suggested that there is a second fault which requires parts 4265484 and 4211695 to solve. Apparently this has only impacted upon a batch of sets destined for North America, hence the delay in the release of the set in the US and Canada. I suspect there are some missing or defective parts in this particular batch, although that has not been confirmed as far as I know.
It therefore appears that LEGO will not be resolving the issue with the neck at the moment, in which case we will have to modify it ourselves. My first thought would therefore be to replace the problematic joint with something stronger, perhaps a large ball joint consisting of parts 4497253 and 4619760. I am having difficulty incorporating these elements without compromising the appearance of the model at the moment, but I will keep working on it.
If anybody has any suggestions for improvements I'm sure they would be much appreciated by everyone who owns the set, so let us know!
MinifigForLife, the supplier of high-quality printed items (including Brickset minifigures and bricks) has teamed up with Chris Salt, the animator behind last year's Exo-Suit teaser, to produce a new advertisement for the website.
Peter Reid and Jeremy Williams also contributed to the video by creating the set and the music respectively. A job well done by everyone involved I think!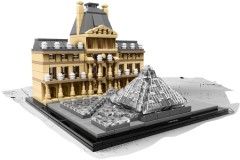 It has been a long and exciting summer of LEGO set releases but there is still no sign of any respite! Today is the 1st of September and that means a range of new products are now available from LEGO S@H. For most of the world these include the highly anticipated 21303 WALL•E, the latest LEGO Ideas model which was recently reviewed here. We will be able to clarify exactly what is happening regarding the set later today, having now received an explanation. For the time being it is not available at S@H in the US.
Other sets released today include 21024 Louvre, the three 2015 Advent Calendars and Series 14 of the Collectable Minifigures.
70751 Temple of Airjitzu is also now available for general sale. You can read our official review of the set here.
Please consider using our affiliate links when making any purchases from LEGO S@H:
USA | UK | Canada | Germany | France
Of course we are now only days away from the release of sets based on Star Wars: The Force Awakens and the Star Wars Battle Figures, so stay tuned as we cover every aspect of their release and review each of the sets starting on the 4th of September!
The following events are taking place in the next 30 days:
| | | |
| --- | --- | --- |
| Brick.ie display at Naas town library - County Kildare, Ireland | 04 - 05 September | Naas, County Kildare, Ireland |
| Greater West BrickFest [NSW Australia] | 05 September | Springwood, Australia |
| Kockice exhibition in Rijeka | 05 - 06 September | Rijeka, Croatia |
| CLV Sant'Ambrogio 2015 | 05 - 06 September | 37015 Sant'Ambrogio di Valpolicella (VR), Italy |
| 4. Berliner Steinewahn | 05 - 06 September | Berlin, Germany |
| Briqu'Expo Diemoz | 12 - 13 September | 38790 Diemoz, France |
| Bricks on the Banks | 12 - 13 September | Covington, Unites States |
| Perú Brick Day | 12 - 13 September | Lima, Perú |
| Lugs United 2015 exhibit | 12 - 13 September | Belgrade, Serbia |
| Off-Kai (Offline meeting for AFOLs) in Tokyo | 13 September | (temporary decision)Kanagawa, Japan |
| London AFOLs pub meetup | 14 September | London, United Kingdom |
| ItLUG partecipa a Scigalott 2015 | 18 - 20 September | Lecco, Italy |
| KOCKAFESZT Kecskemét | 19 - 20 September | Kecskemét, Hungary |
| Inspiration Modellbau | 19 September | Mainz, Germany |
| Briqu'Expo Veneux les sablons | 19 - 20 September | 77250 Veneux- Les Sablons, France |
| Brick Mania Seneffe | 19 - 20 September | Seneffe, Belgium |
| Gioca Enjoy | 19 - 20 September | Cernusco sul Naviglio, Italy |
| Rainbow Bricks LUG @ OzComicCon Sydney [NSW, Australia] | 26 - 27 September | Glebe Island, NSW, Australia |
| Heritage Park Railway Days | 26 - 27 September | Calgary, Canada |
This list has been obtained from the LEGO Ambassador Network. To have your event added to it, contact your LUG Ambassador.
These are the most read articles that we've posted over the last couple of weeks:
View more articles »