In The News
View all discounts | Compare Amazon prices | Hide these alerts | @BargainwatchNA
Some "fun" and rare insights into the operation of LEGO Ideas today.
Pokemon, Transformers, and Jaws have been added to the unofficial (at least to the public) list of subjects that you won't find on Ideas.
On December 5th, Pikachu's Pokemon Center Visit! was published and it quickly reached 500 support then slowed down. Yesterday the Escapist posted on the project and gave it the rest of the push it needed to get to 1000.
The importance of that milestone is that at 1000 and 5000 supporters, Ideas does an IP check to find if the subject is currently being utilized by another "construction toy" group. Pokemon is currently licensed to Ionix, so the result is the archive. All Pokemon based projects, including the Pokemon: Gyarados pictured above, are shut down and new projects will not be published until the license is discovered to be available.
Ideas has also quietly archived Transformers. Being a Hasbro property with construction sets produced by its KREO division, this has been long in coming.
Jaws on the other hand, has been deleted from Ideas entirely. This is not unique but very very rare. It can be assumed that the powers that be made a pre-review decision that Jaws does not make a good "Brand Fit" with LEGO and thus it has been wiped clean.
The eight judges of our festive building competition have finished deliberating so the results can now be announced.
There were several hundred entries all of which showed ingenuity in combining parts from two very different sets into something festive, so thank you all for entering but not for making the judges' job so hard!
Without further ado then, here are the winning entries:
First prize: Choice of Slave I or Detective's Office
Elf Dunk by Valerie Strecker
Elf Dunk! Elf Dunk!
Step right up and gather around,
For the latest attraction,
To make a splash in Elf Town!
Just hit the red button,
In the middle of the target,
And the plunge will be taken,
By our favorite elf Margaret!
The judges said:
"A fantastic model of a great concept that's been presented superbly. " -- Huw
"It was very hard to choose the winners but in the end 'Elf Dunk' caught my eye the most. It uses a lot of the pieces in innovative ways yet still managed to make the whole MOC look excellent!" -- Stephen
"Lovely little set, a very original build. Loved the fact that it was so detailed, e.g. with the booth to pay at included. It felt like a real set to me. And I would like to see this attraction coming to my local Christmas market!" -- Snowhitie
"A quirky take on an attraction you might find at a Christmas market" -- LostInTranslation

Second Prize: Ideas Birds
Christmas in Australia by jazlecraz
A traditional Australian Christmas: A family trip to the beach for a BBQ with beach cricket and ice cold drinks!
?
The judges said:
"It's easy for us in the northern hemisphere to forget that half the world is basking in sunshine and enjoying summer activities over Christmas. This model is a great reminder! Every aspect of it is great and it's been presented superbly" -- Huw
"A very simple yet really inventive build. Was nice to see the ground plates being used as a caravan and loved the fact that the children were playing cricket!" -- Snowhitie
"jazlecraz's unique take on Christmas Down Under really caught my eye thanks to the impressive use of parts and inclusion of some great accessories" -- CapnRex101
"A great twist because not everywhere celebrates Christmas in the snow but that's the image traditionally portrayed. Love the barbecue grill and the cricket :-)" -- LostInTranslation
Third prize: Ideas Birds
North Pole Weather Station & Spa by ladymacnaughton
Keeping track of the weather at this remote outpost can be a miserable job! Good thing these clever elves have sorted out how to melt some of that snow for their relaxing hot tub!
The judges said:
"A fun little model! Several people built hot spas but this one, combining the elves' place of work with a hot tub was the one that caught the judges' eyes" -- Huw
"A nice combination of ideas, the elves have a job to do but they can unwind as well!" -- LostInTranslation
So, congratulations to the winners, many thanks to the judges for taking the time to help, and to the LEGO affiliate team for supporting the competition and providing the prizes.
I'll be in touch with the winners via flickr mail.
It feels like quite a while since day 7 of this Star Wars Advent Calendar where we saw a snowball launching E-Web cannon. At last the Rebels on Hoth can defend themselves against the Imperial onslaught with the arrival of a small defensive outpost today, which once again includes a stud-shooter.
This is a fun little model which is obviously a fair addition as far as playability is concerned, but aesthetically it is very weak if you ask me. Too many grey pieces have been used for something which is supposed to be set on Hoth, even if a few white slopes do go some way to rectifying this. It just looks like a bit of a mess.
The stud launcher is a neat feature and it is good to see a weapon included to arm your Rebel troops, but I feel this is occupying a window that could have held something much more exciting, which is a bit frustrating.
Overall - 2 - This gift will be fun for children no doubt, but its boring design does not impress me.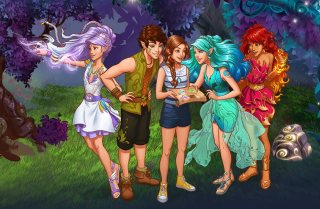 A teaser site for the new Elves theme has gone live at LEGO.com. There's not much there yet, just a 30 second teaser video and a nice picture of the protagonists, which I am told are called Aira Whisperwind, Farran Leafshade, Emily Jones, Naida Riverheart and Azari Firedancer.
It confirms a release date of March 2015.
Thanks Aanchir for the news.
There have been quite a few developments since our last 2015 set update a few days ago so it is probably time for another assessment of where they can be found worldwide. The official release dates have changed since our last update with the arrival of the German retailer's catalogue, although this does not appear to have affected set availability at all.
United Kingdom:
We still have no confirmed sightings of any 2015 sets in the UK and LEGO stores have suggested that the earliest they might put the new sets out is Boxing Day. However, if other toy shops release the new sets, LEGO stores will probably follow suit.
Toys R Us are said to have put out City Swamp Police sets in some branches, this is now confirmed in Oxford at the very least.
Continental Europe:
Plenty have people have reported finding 2015 sets in Denmark, Holland, Germany, Hungary and Poland. City, Star Wars, Friends and Disney Princess sets all appear to be fairly widely available.
City sets are available in Finland.
City and some Legends of Chima sets are available in Belgium.
City and some Legends of Chima sets are available in Norway from Lekekassen, and they are even slightly discounted!
Disney Princess sets are available in Sweden.
North America:
City, Creator, Disney Princess and Friends sets appear to be available in most Target stores.
Star Wars, DC Super Heroes, LEGO Movie, Bionicle and Series 13 Collectible Minifigures keep appearing and disappearing on the Toys R Us website. If you are looking to snag any of these sets it is worth keeping an eye on it.
A small number of sets can be ordered from shop.LEGO.com. See this list to find out what's available.
Australia:
No further reports have come in from Australia so we can shed no more light on set availability here. A few days ago there was some suggestion that a few Star Wars sets were appearing in Toys R Us stores, so it might be worth stopping by if you are close to one.
If you find any sets near you please let us know in the comments. When more sets are appearing we will update you once again with another article.
Just one week left of our advent calendar countdown! I hope you've all decked your halls and trimmed your trees in anticipation of the big day.
Speaking of which, we haven't had much in the way of interior festive decorations yet have we? Well, we get something very traditional today, in the form of a fireplace with some mistletoe (I'm guessing) hanging from it. The bottom section of the fireplace is in light bley, with two pink dots for decoration on the white base (made of two 1x4 plates connected by a 2x2 dark bley tile rather than a single 2x4 plate) and a trans-orange plume nestling in the hearth, creating a very cosy atmosphere.
The chimney breast is then formed of a medium dark flesh profile brick, a dark bley slope and a light bley brick with a stud on the side. Although most of these bricks are obscured when the green limb element is attached, I would still have preferred these to all be in the same colour rather than a mishmash.
On the foliage we have a useful yellow star part, which is a nice festive addition, though I would have liked a stocking to be incorporated in this model somehow as well to enhance the Christmassy vibe.
Overall - 4 - A decent little build and a welcome change of subject matter, which just could benefit from a few minor tweaks.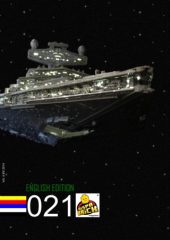 The latest issue of HispaBrick Magazine can now be downloaded for free.
In this issue, Julian Charity, Part Design CAE engineer, explains how the new pieces used in LEGO sets are developed, and Keith David Severson will tell us something about his task in the CEE Team.
We will tell you the story of LEGO Therapy and their work to help children with autism spectrum disorders. Great creators like Jarek Ksiazczyk (Jerac), Pawel "Sariel" Kmiec, Kosmas Santosa (KOS brick), Matthias Riedel (Blacktron2011), Oton Ribic, Paulo Castanho and Sebastian Zaberca (zaberca) show us their creations, in many different themes, from Star Wars to ALIENS, City, Technic and many more...
Our collaborators keep offering tutorials on MINDSTORMS and WeDO, MINILAND Character Builds and reviews of the latest sets and books related to LEGO constructions. We have coverage of the HispaBrick Magazine Event 2014, Brickcon 2014 and LEGO Fan Weekend 2014.
View more articles »