In The News
A LEGO version of our favourite charity Fairy Bricks' logo is now available to available to purchase for £20 on eBay.
The 246-piece model has been designed and packaged by Bright Bricks. Just 500 have been made and each one contains a individually numbered plate. It contains a lot of lavender bricks and plates so as well as being an excellent model it's also a great parts pack if you're after pieces in that colour.
Needless to say, all profits from the sale of it go directly to the charity which provides LEGO to childrens' hospital wards throughout the world.
Photos of the prototype set that Kev sent me a few weeks can be seen after the break.
Note that the numbered tile was not available at the time I took these photos.
Argos has now listed most of the summer releases -- Star Wars, Super Heroes, Ninjago, Friends, City, Creator and more -- on its website and many are available for reservation and immediate collection. You can see what's new on our Argos shopping page.
Interestingly, it has also listed the four new Minecraft sets although there are no images on its website and they don't appear to be actually available anywhere yet.
Ant-Man Final Battle is also listed it's not available either. There have been reports of quality issues with the set which has resulted in a product recall before it's been made widely available which is a shame because it looked to be one of the better Super Heroes sets.
While on subject of Argos, we are aware that many of the deep discounts shown on our Argos shopping list lead to non-existent pages or products at Argos.co.uk. This is due to old and out of stock items appearing in the product feed that we read daily. I have reported the problem to the Argos affiliate team and I am hopeful that they'll get it sorted soon.
View all discounts | Compare Amazon prices | Hide these alerts | @BargainwatchNA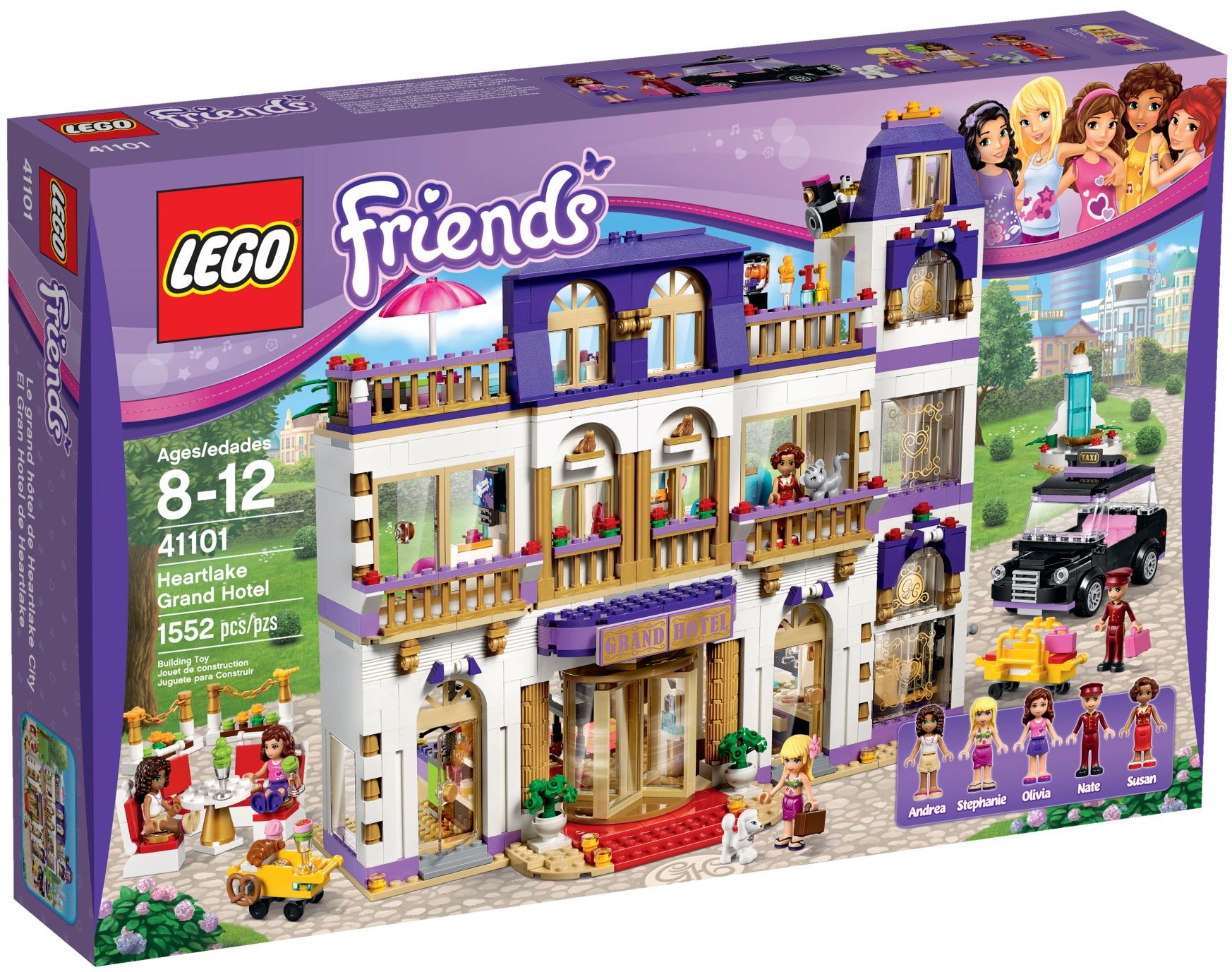 When I was asked which sets I was looking forward to and would like to review out of the summer wave, my immediate answer was 41101 Heartlake Grand Hotel, which brings together my love of the Friends theme and detailed LEGO buildings. It is the largest set ever in the Friends range, coming in at an RRP of £99.99 and a piece count of 1552. But is it worthy of the moniker "grand"? Read on to find out...
The box art is the usual depiction of the finished model, but as well as highlighting some of the details of the set, the back of the box reveals a cool play function that is not obvious from the front – the tower on the side of the model houses a lift (elevator) that can be raised and lowered. It is also shown that the various "modules" which form the building can be configured in different ways.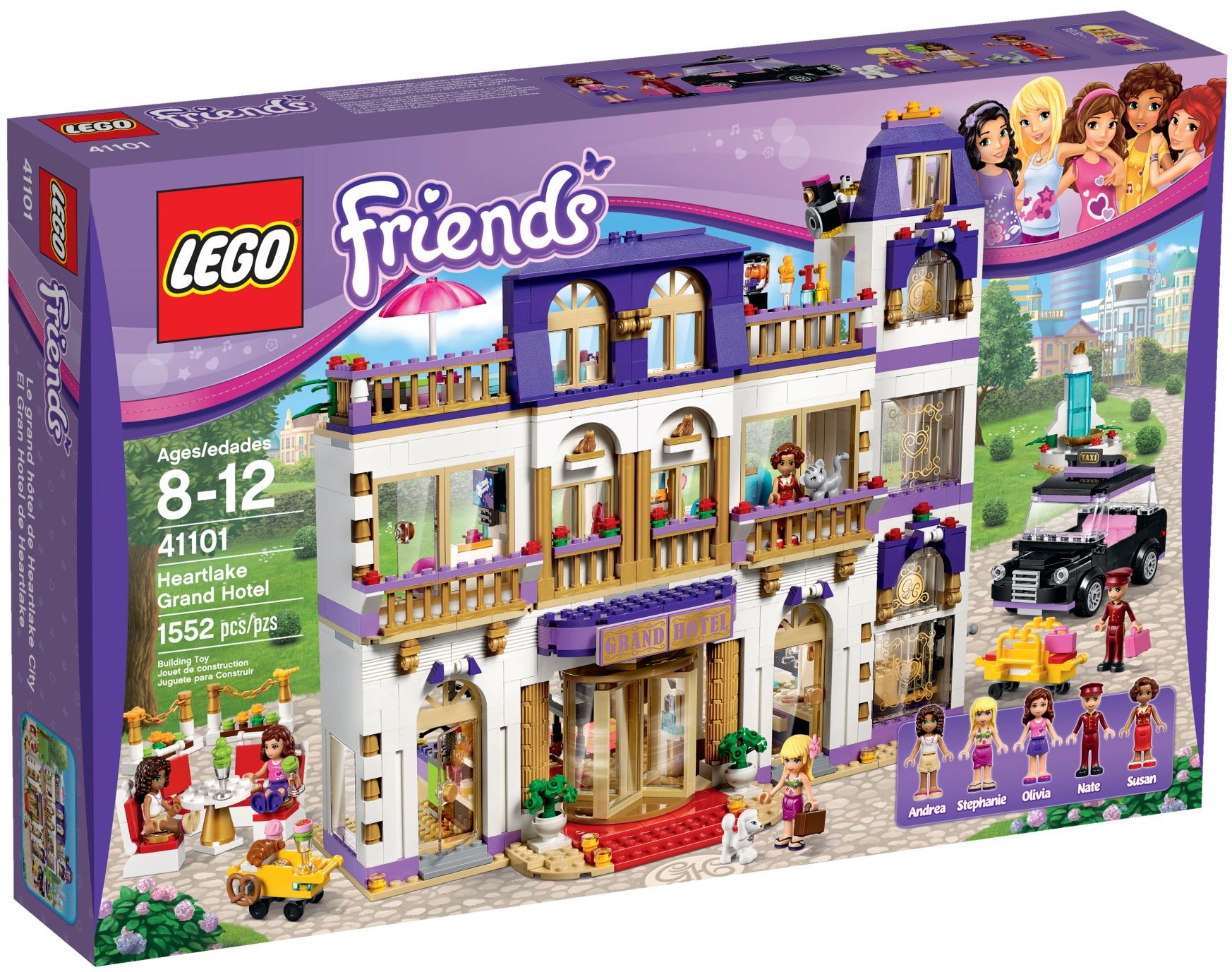 The first surprise upon opening the box was that although there are two instruction books, one is A4-sized and perfect-bound with a flat spine, containing a whopping 236-pages! Book 1 is a small, thin booklet containing the instructions for the peripheral models and book 2 deals with the main build of the hotel. I'm afraid this set is not for the sticker-shy as there are over 30 stickers on the single sheet, some of which could be omitted without detriment to the overall look of the model, though I applied all except one, a circular portrait of a female character that is supposed to be affixed in one of the bedrooms. (I decided that I didn't think it added anything to the room).
For those of you seeing this set as a treasure trove of parts, you will not be disappointed. There is a multitude of unique or uncommon parts. As I type this, full online inventories for this set and the others in the summer wave are not available, so when I say something is new or unique, I mean "as far as I know, prior to the summer wave". The façade of the hotel is predominantly white, but has accents of dark purple, pearl gold and medium lavender, and it is amongst these colours that most of the rare and unusual parts are to be found. We have a large number of dark purple slopes in various sizes and angles, as well as rounded plates and a 1x6x2 arch. In pearl gold, we have pillars, round profile bricks (12 of them!), fence pieces, 2x2 macaronis, frogs, 6x6 round modified tiles and the new ornamental 1x1 brick with projecting scrollwork (CapnRex101 called it a "capital brick" in his review of 41098, where it is included in tan). The Grand Hotel adds 1x3, 1x8, 2x6 and 2x2 corner bricks and a pair of 4x4 macaronis to the range of medium lavender parts now available. Added to this are a few printed tiles (two of which also appear in at least 41098, and I am certain the gold record tile will be present in the pop star sets) and a very interesting and potentially useful tan 1x4 curved element with spokes in it that fits neatly under a 1x6x2 arch to provide a nice decorative finish. Oh, and there are two pink suitcases. It's a real treat to see so many new parts becoming available in the purples palette and the new gold pieces are going to be fabulous for bringing a bit of bling (or an ornate gilded touch, if you're more refined) to many future MOCs.
The mini-dolls are spread across the first few bags, of which there are 11 in total (plus one of large plates). Stephanie, Andrea and Olivia are fairly typical specimens, though Stephanie appears to be dressed for a luau, wearing a lei over a bikini top and sarong. The hotel manager/receptionist is wearing a very nice formal red outfit and reuses the 'starlet' hair in reddish brown, as was also used for Emma's mother in 41095. I like that we are getting a wider range of female hairstyles now, especially this one for a more mature look than the predominant ponytails. The porter sports a smart dark-red uniform and cap, and reminds me of all those classic Agatha Christie-type books/films set in opulent hotels in the 1920s and 30s.
First off, we build what I call the peripheral models. Often these annoy me as I would prefer more bricks to be used in the main model, but that's actually not the case here. The extras add additional storytelling as always, but the main model is so substantial that there really does not seem to be anything lacking in it. The first mini model is a traditional luggage trolley, which to my mind should be shorter and taller, but it serves its function adequately nonetheless.
Next up is a pretty innocuous little snack cart, followed by a rather stylish fountain, which makes excellent use of the large pearl gold clam shell piece and is topped off with a pearl gold frog, creating a nice decorative flourish. Possibly the next build (two pieces of chained fence over a flowerbed) is a touch superfluous, but I suppose it helps to delimit the garden area, which also contains a table and four chairs for the guests to relax in. All of these models are built from bag 1; bag 2 contains the parts for a very nice black taxi. I'm not usually that interested in vehicles, but I do like the design of this taxi. It is very practical and sturdy but has a frivolous pink interior, and can seat four mini-dolls comfortably. The boot (trunk) opens up and can house a suitcase. Oddly, there is no steering wheel in the car though!
Now we move on to the hefty second manual. From here on, it is all about the hotel. Each bag builds one "module" of the build. The techniques used throughout are not complex but the modules are solidly constructed using a mixture of panels, 1x2x5 bricks and arches, which I am pleased about since I dislike it when models achieve height solely through the use of panels and lack some of the robustness conferred by interlocking bricks. Although the modules are repetitive in terms of the symmetrical outward appearance of the hotel, the interior features of each one are different, so there are variations and surprises involved because of this.
Downstairs we have a café with a range of tasty treats and a reception offering newspapers and postcards. The entrance features a chandelier hanging over the red and gold tiled flooring and a red "carpet" stretches outside beyond the revolving door (it really does revolve). The panels for the frontage of the hotel all require stickers I'm afraid, but I think the gold patterns do add an extra level of detail and class. Also downstairs we have that stalwart of a luxurious hotel lobby – a grand piano. This is a gorgeous rendition of a piano at this scale; the detail on it is incredible, down to the black lever holding the cover open.
The second floor of the hotel comprises two bedrooms, each with a narrow balcony. One bedroom includes a bathroom, a single bed and a TV, while the other is a bit more plush, with a larger bed that has an azure headboard and a dressing table chock full of toiletries. One complaint would be that the only way to access one of the bedrooms is through the other, but this is a minor gripe.
On the roof, we have a small pool for the guests to relax in, as well as a cleverly designed sun lounger and a little bar for those essential refreshments. (Keep hydrated, kids!).
The last section of the build involves the lift shaft, which is subsequently attached to the hotel by means of Technic pins and bricks in the same way that modular buildings can be connected together. The shaft is made up of a range of bricks, plates and windows, leaving a 1-brick wide gap on the side for the Technic mechanism to slide up and down. The lift can be locked in position at a level by flipping the Technic axle across so that it rests on a pin. This is the same kind of mechanism as used for the lift in the modular Town Hall 10224, which my nephews absolutely love playing with. I think this is a fun play feature that also serves a practical purpose and aids storytelling. It would have been easy enough to leave this out and just let children imagine how people get from one level to another, but I applaud the designer for including it, as I think it really does add a great function.
In case it isn't clear from the foregoing, I really love this set. I am a big fan of "dollhouse"-type buildings like Haunted House and the modular buildings, and I think this is as close as we will get to a Friends modular, in terms of part count and detail; while the build is not as brick-intensive and intricate as a modular is (it's still 500 - 1000 parts short of a modular), it is still satisfying and results in a substantial model, which took me over three hours to build. The colour scheme is harmonious and not too garish, with the pearl gold accents offering an excellent touch of glitz and glamour to the building. To my mind, the parts selection cannot be faulted.
With the inclusion of the taxi and the two members of hotel staff, there are numerous storytelling possibilities for children, and I think adults will be impressed with the end result too; the model could certainly grace any AFOL display shelf and not look out of place. I do hope to see someone try to fully modularise the hotel in the near future, to expand the number of rooms and to flesh it out even further with corridors and stairs; I'd give it a go myself if I didn't have roughly ten trillion other projects in mind already!
With regard to the value for money, that's a tough question, especially given that I received this set as a review copy. Personally, I very rarely buy any set without some kind of discount, and certainly not larger sets, so I wouldn't have bought this at full price on principle. Ultimately though, if you really want this set and were to buy it at RRP, I don't think you'd be disappointed (opinions may vary in this regard!).
In my view, Heartlake Hotel definitely manages to live up to its "grand" name, and I sincerely hope that in the next few years we see more sets from regular themes receiving such star treatment once in a while.
Apologies for the dodgy photo quality – I have tried my best but I'm afraid I'm not up to Huw's excellent standard yet. And many thanks to the LEGO CEE team for providing me with this set for review.
Wedge09 has sent in details of an event taking place in Pisa, Italy this weekend:
Orange Brick Team LUG organizes for the second time PisaBrickArt at Pisa, Toscana, Italy. This LEGO Exhibition will feature different thematic areas covering different LEGO themes like Star Wars or Technic but it won't stop there; this exhibition will feature an artistic area where art meets LEGO too, and Scientific, Educational, Artistic, Technical and Historical insights about our beloved LEGO bricks.
Orange Brick Team LUG will be joined by Dolomites Bricks, Trentino Alto Adige's LUG, that will come with its collection of LEGO Star Wars.
For more information you can visit the event's website.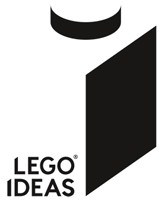 The results of the nine project review are complete. One project has made it to production and one gets a pass.
To keep the suspense I won't reveal it here, but you can check out this video or go to the official blog posting.
I will say though that this was my favorite concept of the review and I am extremely happy to see it get selected.
The Friends line has been divided into two halves this Summer, with one based on Livi, a pop star visiting Heartlake City, and the other focusing on tourism. 41098 Emma's Tourist Kiosk is the smallest of these, priced at just £9.99 and containing 98-pieces as well as one minidoll.
41101 Heartlake Grand Hotel might be the most visually impressive Friends set of the Summer, but this set offers a fantastic parts selection for the price and looks great as a stand-alone model or as part of a larger scene.
Box and Contents
The small box shows the tourist kiosk situated in the park, with the Grand Hotel and airport visible in the distance. The back simply shows some potential play scenarios with Emma working at the kiosk, posting a letter or relaxing on the bench.
Inside is a single instruction manual and two bags. I very much like the Heartlake city map which features at the back of every Friends instruction booklet, which shows where the model is located within the city.
Minidoll
Emma is one of the five original Friends characters and this is her only appearance this Summer. Her hair piece and head are the same as ever while the torso is printed with a large flower and has only appeared before in a couple of the larger sets. The purple skirt and magenta shoes have been featured in four earlier sets, including the recent 30204 Wish Fountain polybag, which I suspect is intended to accompany this model.
A number of accessories are included which can be attached to Emma's hair and she also comes with a pair of orange roller skates, allowing for some customisation.
The Completed Model
This is only a small model but it offers a great deal in relation to its size. The parts selection is what drew me to it initially as most of the new Friends pieces for this Summer appear in this inexpensive set. For me, the 'capital' brick is particularly interesting as it is naturally very useful for adding some nice detailing to the interior or exterior of buildings. The ionic design is very versatile and the addition of a stud to the top of the protuberance makes it even more useful as not only a decorative brick, but also a structural one.
The newspaper and postcard tiles are also very nice, but the 1x1 round tile with pin is unique and therefore stands out. Five of these are found in this set, including a spare, as attachment points for Friends accessories. The hole in the pin is only large enough to fit one of these tiny pieces but the pin itself is the diameter of a standard bar so can be held in a minifigure's hand or a clip. This makes it an incredibly useful piece, more so than the 'capital' brick or any other I can think of to be introduced this year in fact!
I would like to talk in greater detail about the parts, but I will move on to the set itself and leave that for caperberry and The New Elementary. The rotating accessories stand is a simple build but it looks nice, as do the bench and post box. The bench is dark orange rather than reddish brown which was a welcome surprise as I think this brighter colour suits the Friends vibe well.
The tourism kiosk itself is also a lovely little model, with a nice colour scheme of tan, medium dark flesh and medium blue. There is room for one minidoll to stand behind the counter and various wares for sale, including a postcard, a newspaper and a lolly.
Overall
Whether or not you are a Friends fan I think this is a worthy purchase for the parts alone, perhaps even in multiples. The 'capital' brick and the 1x1 tile with pin are both fantastic new pieces with lots of potential for incorporation into your own models.
For the price of £9.99 I think this is an excellent set, even if you choose to keep it together and add it to your City layout. There really isn't anything not to like about it in my opinion and I absolutely recommend it.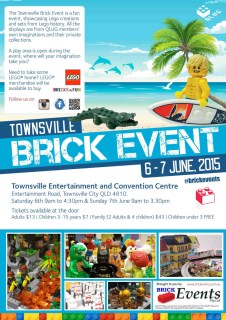 Brick Events and members from QLUG (Queensland LEGO User Group) based in Queensland Australia are holding the first ever Townsville Coast Brick Event to be held over the weekend of 6th & 7th June at the Townsville Entertainment and Convention Centre, Entertainment Drive, Townsville , opening hours are from 09:00 to 16.30 Saturday & from 09:00 to 15.30 Sunday.
This event will feature over 25 exhibits, stalls and build and play zone. Exhibits will feature Space, Harry Potter, Wild West, Megastructures, Pirates, Medieval, operating trains, Duplo City, play tables and much much more.
Tickets will be available at the door: $13 Adults. 16 year and over. $7 Child (3 to 15 years).
View more articles »