In The News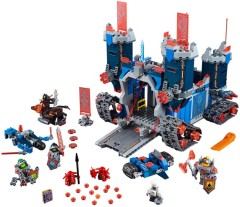 I thought I would let the Doctor Who review breathe for a while before posting the other big news of the day: Two Nexo Knights -- the next LEGO 'big bang' theme -- sets, and a raft of minifigures from the theme were unveiled at New York Comic Con.
The two sets are 70316 Jestro's Evil Mobile and 70317 Fortrex. You will find pictures of them in the database and of the minifigs at TheBrickFan.
I don't know what to make of them. They are too 'far out' for my taste but then they are not aimed at the likes of me. Presumably play-tests carried out by LEGO showed that fitting castles with tracks and jesters battling with spacemen was a hit with those that they are targeting...
The press release is after the break.
LEGO® NEXO KNIGHTS™ Catapults Into Action
World's leading toy brand introduces new intellectual property that bridges physical and digital play with building sets, episodic content and digital gaming
New York Comic Con attendees get first-look at story, products and gaming app.
NEW YORK, Oct. 8, 2015 /PRNewswire/ — The LEGO Group today announced LEGO® NEXO KNIGHTS,™ a new, original LEGO property depicting a medieval kingdom set in a futuristic world where five young, brave knights "download" special powers to their shields in order to battle the royal court's evil Jestro and a cast of monsters to restore peace. The story comes to life through LEGO building sets, an episodic television and a digital gaming app that fuels story-driven gameplay. The property launches later this year, with products available starting January 1, 2016. LEGO NEXO KNIGHTS characters, story, app experience and two iconic building sets from the collection will be previewed to New York Comic Con attendees, Thursday, October 8 through Sunday, October 11 at the Jacob K. Javits Convention Center (Booth #1436).
"Inspired by insights to meet the emerging needs of today's kids, LEGO NEXO KNIGHTS juxtaposes a timeless world of medieval knights with a futuristic twist in a captivating story that invites children to explore LEGO play in a whole new way," said Casper Thingholm of the LEGO Group. "LEGO NEXO KNIGHTS offers children the rewarding building experiences they know and love, amplified by digital enhancements that merge what today's kids love: self-expression, strong characters, deep content-driven story and digital gaming."
Story
Set in the futuristic, high-tech world of the Kingdom of Knighton, LEGO NEXO KNIGHTS follows five young knights in their quest to battle Jestro, his sidekick, the Book of Monsters, and their Lava Monster Army. Heroic knight, Clay Moorington, leads the band of knights, including alpha superstar Lance Richmond, hipster Aaron Fox, Macy Halbert, a princess who would rather be a knight, and Axl, the giant. Together, under the tutelage of Knights' Academy mentor and Great Digital Wizard, Merlok 2.0, they join forces to defeat the enemy.
Building Sets and Consumer Products
Fourteen richly detailed building sets will be available in January 2016, ranging in price from $9.99 to $99.99. Additional building sets will launch in August 2016. The first two sets are being revealed at New York Comic Con.
Consumer products partners across key categories are also engaged in creating a merchandise program dedicated to LEGO NEXO KNIGHTS, such as publishing and soft goods.
LEGO NEXO KNIGHTS: MERLOK 2.0 App
To extend the story and increase playing fun, more than 150 unique LEGO NEXO KNIGHTS powers – represented as shields – have been scattered across the kingdom of Knighton. The powers can be found in building sets, online, in print and directly in the television content. Existing in both physical and digital form, children can discover, scan and collect varied powers using the LEGO NEXO KNIGHTS: MERLOK 2.0 app. Once added to a digital power collection, children can creatively and continuously find new ways to join the knights to defeat the enemy, in their gaming experience.
Available in late December 2015, the LEGO NEXO KNIGHTS: MERLOK 2.0 app will be available as a free download via App Store, Google Play, Samsung Apps and Amazon Appstore.
Television Series
LEGO NEXO KNIGHTS, a 20-episode, animated adventure comedy series, will debut on select global broadcast television networks as soon as late December 2015 and air throughout 2016. The core means by which children follow the story and get to know the characters, the series follows the constant adventures of LEGO NEXO KNIGHTS heroes and villains. Children will also be able to scan new LEGO NEXO KNIGHTS powers directly from their content viewing screen into their app games, further connecting their play experience.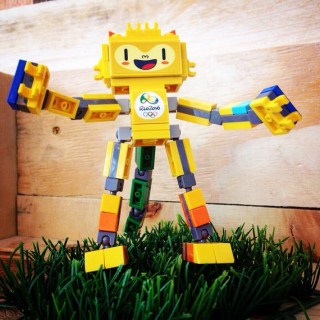 I haven't seen it reported anywhere else, but according to the Rio 2016 Olympics website, where an article about official products was posted earlier this week, LEGO is going to produce a Rio Olympic Games mascot Vinicius set next year. It looks like an overgrown Mixel...
Thanks to Martijn for the news.
View all discounts | Compare Amazon prices | Hide these alerts | @BargainwatchNA
Just three days ago we had our first glimpse of the 11th LEGO Ideas set 21304 Doctor Who and now this morning I have received a copy, and I have pulled out the all stops to bring you the Internet's first review.
First, I will come clean and declare that I am not a fan of the latest Doctor Who series. Jon Pertwee and Tom Baker, the 3rd and 4th Doctors were 'my' doctors growing up and while I did watch the Christopher Eccleston and David Tennant series, I found the increasing implausibility of the plots and the fact that despite having all of time and space to travel in, he was always on Earth in recent times, ridiculous.
Nevertheless, when Andrew Clark's Ideas project got the green light in February this year I looked forward to seeing what LEGO came up with. So, let's see whether it has been worth the wait...
Box and instructions
As with all Ideas sets it comes in a sturdy, flapped box that can be opened without destroying it.
We have seen pictures of the front of the box already but nevertheless it's worth taking another look. It shows the 12th Doctor, Peter Capaldi, sonic screwdriver in hand, and Clara Oswald hurriedly returning to the interior of the time machine, perhaps being pursued by the two Daleks. The other two minifigs, the 11th Doctor, Matt Smith, and a Weeping Angel, are shown in a separate panel.
The rear shows the pair of them operating various controls and also how the interior of the Tardis connects to the exterior.
The 127-page perfect bound instructions carry the same image as the front of the box and contain information about the show and the characters at the front, and about Andrew Clark and the LEGO designers that worked on the set, Samuel Johnson and Adam Corbally, at the back.
It is here that a very interesting fact is revealed: Samuel Johnson's uncle was Paul McGann, the 8th Doctor, who appeared in a film made in 1996 which was an (unsuccessful) attempt to re-launch the show following its cancellation in 1989. No wonder he wanted to work on the set!
Contents
Opening the box reveals that it's packed with bags and, of course, the instructions.
Inside, six unnumbered bags of ABS goodness.
Parts
What a parts pack! If you are a fan of dark blue, you will find plenty of it including many parts not available in that colour before: 1x2x2 window frames, 1x4/2x2 plate hinges and 1x1 round tiles to name a few.
Best of all, there are no stickers! All the printed parts, apart from the Dalek tops, are shown below.
Other notable parts are a new (to me) transparent part that goes on a minifig head and provides two studs on the back, the sonic screwdriver and a pair of the new transparent '1x1 round tile with nipple'.
Minifigs
Left-to-right: 11th Doctor (Matt Smith), Clara Oswald, 12th Doctor (Peter Capaldi).
The first two look spot on: the Doctor in bow-tie and brown checked suit, Clara in tartan skirt, white blouse and cardigan. However, I'm not so convinced by Peter Capaldi. I'm told that he is usually just wearing a black suit or coat, although this image shows him in crimson-coloured greatcoat which, if that is the attire LEGO was trying to replicate, the purple it has used is not right. Maybe dark red would have been better?
All three have printed backs and Clara has bi-colour legs. For some reason the 12th Doctor doesn't have an alternate expression.
The weeping angel looks great, and it is her that uses the transparent neck bracket, for attaching the wings. Here she looks quite serene...
... but turn her head around to expose what is possibly the scariest minifigure head I have seen!
I'm told by my daughter Alice's boyfriend (a DW fan), that including a weeping angel in this set is a bit odd given that they are more associated with the Amy era. (The Doctor's assistant before Clara).
Daleks
The interior of the Tardis is built before the Daleks but I will take a look at them first.
Two are provided, both identical in design and colour, dark tan and gold. I think Samuel has done a pretty good job capturing their distinctive look.
The 2x2 dishes used for the tops of the heads are printed. Here you can see where the '1x1 tile with nipple' has been used: for the eye.
Alice's boyfriend wondered why they are dark tan and not in one of the more vibrant hues introduced recently which is a good point because according to this Dalek colour scheme page, ones matching this colour first appeared in 2005 and appear to have been phased out in 2010 when Matt Smith took over from David Tennant.
It's interesting that it's a totally different design to that in the forthcoming Dimensions pack.
Construction of the interior
Here's how the interior comes together:
I'm no expert but it appears to be a pretty good representation of the Tardis interior as it appears in series 7 and series 8, with hexagonally-arranged control panels around a central column with the time rotor at the top.
Exterior
There's not much to say about construction of the exterior of the Tardis as it is straightforward and consists mainly of stacking the 1x2x2 window frames and adding their inserts. Some SNOT work is needed to attach the 1x8 tiles to the corners.
To enable the sides to open, the Police Box signs at the top are attached to hinges so they can be turned 90 degrees upwards...
...thus allowing the back to be opened. Note the white door pane printed with the reverse of the front door. Not sure it's entirely accurate but it's cool nevertheless. The level of detail added to the hinged sections is impressive.
When I saw the Police Box lettering at the top of the Tardis a few days ago I wondered why on earth it was there. Now it's obvious!
A Doctor can be placed inside.
The exterior is joined to the interior section using a Technic axle.
The completed model
Here is the completed model...
Verdict
Quite simply, it is fantastic. Every aspect of it. Perhaps the 12th Doctor's coat is not quite the right shade but I can live with that. It successfully captures the 'bigger on the inside' concept of the time machine and both interior and exterior models are superb. Plus, the Daleks are cute :)
Those of you who see sets and think 'parts pack' rather than 'cool model', it will satisfy you too thanks to the plethora of new parts in dark blue and a smattering of useful dark tan ones, too.
It's everything you could want from the first, of what will hopefully be many, Doctor Who sets.
Many thanks to Norton & Co, LEGO UK's PR agency, for providing the set in such a timely manner for review!
When I was in Denmark in August, I picked up a pack of LEGO All Stars trading cards and an album to put them in from the LEGO shop at Billund airport. I didn't think any more about them until talking to Sue-Ann at Swindon last weekend who asked me what I knew about them and whether I had the ones she needed.
To be honest, I am not entirely sure what LEGO All Stars is all about and where it is being promoted. As well as the trading cards there is a page on LEGO.com that only appears to be in Danish and also a mobile app LEGO All Stars Movie Maker that is not compatible with all three of my Android devices (HTC One M8, Nexus 7 and 9) which seems a bit odd, so I can't tell what it does.
So, can you shed any light? Have you seen the cards in your shops? Does the app run on your device?
There is a picture of the 8 (out of 40) cards that I have after the break.
Hey! It's Mixels expert and wiki founder TheBrickPal again, back to review Series 6; the recent and final wave of 2015! The Mixels are, as they have always been, priced at £2.99 or $4.99, which is a perfect price for those looking to collect the characters. Or, you know, just to use the many unique and amazing parts.
As the threat of King Nixel, Major Nixel and their black and white army looms, more new tribes are discovered on Planet Mixel! And as with Series 4 and 5 with the Infernites and Frosticons, respectively, we are introduced to three new additions to the Glorp Corp! This slimy swamp tribe was very popular back when it debuted in Series 3. But can their gooey cousins compete? Read on for the answer!
Dribbal, the know-it-all who actually knows very little, appears to be modeled after a glasses-wearing nerd; a humorous basis given that nerds are stereotypically nasally. And our fellow Dribbal here has a bad case of runny nose! Like many other Mixels as of late, his top jaw is mounted on a ball-joint, which allows for many posing opportunities. His arms are also on ball-joints, which isn't a common occurrence; and thus a welcomed inclusion.
These points of articulation give Dribbal tons of personality, which lands him as my favorite of this branch of Glorp Corp members. However, there IS also a subjective reason for why I love Dribbal so much, so this opinion won't affect most other builders of him: he's similar to myself!
Unfortunately, Dribbal is plagued with a problem that most Mixels suffer from: his feet can't move forward or backward. As I said, though, this issue is universal among most sets in the theme, so it would be unfair to penalize Dribbal for it specifically.
Gurggle is an Italian hothead with serious sinus problems! His top jaw is built upside-down, which is a unique way to do things. Gurggle's build, I'd say, is the most interesting of his tribe. As for parts, he includes some nice slopes; including the angular ones from Torts last year.
You may notice that Gurggle is very tall, which makes him similar to the Glorp Corp's leader, Glomp. These legs give him a great deal of posing opportunity, which is sure to please many builders.
However, that's not the main reason most people will be buying him...
Fans of the Mixels animated series, rejoice! A Cubit (a rainbow one, to be specific) is finally included physically in a set. Printed on a white, 2x2 flat tile, the Cubit is extremely faithful to the show; more so than the brick-built Cubits shown in official LEGO stop-motion videos. For those unaware, Cubits are the objects that allow Mixels to combine with each other. They need to touch the Cubit if they want to Mix or Max. However, sometimes, as you may know, these tries will result in a Murp. Normally, Cubits are color-coded to represent which one or two tribes can use it to Mix, but this rainbow variant here allows any Mixels to combine!
I'm not entirely sure why Gurggle of all Mixels was chosen to include a Cubit, but I am more than happy to finally own one. I'm sure you will be, too! And Gurggle on his own is pretty awesome, as well.
I find myself fairly disappointed with Slusho. While his build is fine, and he has some great parts (particularly the trans-dark green wings), I find him too similar to Flurr, the Frosticon leader from Series 2. However, in technicality, Slusho is based on a dragonfly; not a dragon as Flurr is. Still, I find it frustrating how the designers couldn't come up with something more creative for the tertiary Glorp Corp cousin.
But forgetting Flurr, Slusho does hold his own. He has a cute face, and a bit of posability in the neck, wings, feet, and tail. His body is also sleeker compared to Flurr's. However, due to what I mentioned above, he is definitely my least favorite of the trio. There is one hope for him, though...
Slusho comes with the evil three-eared Nixel that is my least favorite of the designs introduced in Series 4. However, despite my disliking for it, the need for this Nixel in your collection will become apparent in my Weldos review, so stay tuned!
Verdict
The Glorp Corp cousins are amazing. While they are my least favorite tribe of Series 6, I still like them better than Series 3's Glorp Corp. All three (though Slusho a bit less so) have features that make them stand out. But what do YOU think of them? Leave a comment below and tell me your thoughts, then get ready for the purple Munchos next...
Thanks to Huw for the photos.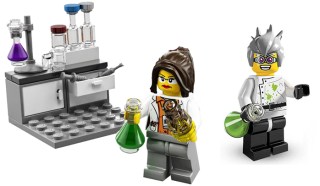 Back in August we posted about a competition being run by Radleys, a British manufacturer of scientific glassware and laboratory instruments. Entrants were asked to build a LEGO Science Lab with mad scientists, mad experiments and crazy equipment! The most creative entrants in each category had the chance to win a £150 LEGO gift voucher.
Radleys have been back in touch with us today to announce that the competition has closed and a gallery of entries is available on their website.
I wonder if any of the winners or special mentions were Brickset members - please let us know in the comments.
LEGO Dimensions has gathered a wide range of properties but few are more surprising than Portal 2, the critically acclaimed video game released in 2011. It's puzzle-based mechanics are perfectly suited to a LEGO video game and many aspects of the game have been transferred into the LEGO universe with minimal changes. Identifying these familiar features is a source of great enjoyment during gameplay. Nevertheless, its presence in Dimensions was rather unexpected and I would be interested to find out how the deal between Valve and LEGO was struck.
This is not the first time that LEGO has had some association with Portal 2 as a LEGO Ideas project based on the franchise reached 10,000 supporters but was subsequently rejected in the Autumn 2013 review. I suspect discussions about its integration with LEGO Dimensions began around that time. Whether this single level pack will blaze the way for a range of sets remains to be seen, but for now we must make do with 71203 Level Pack: Portal 2 containing Chell, a Sentry Turret and a Companion Cube.
Box and Contents
All three level packs share the same box size and shape with a trapezoidal cardboard backing which features some attractive artwork showing Chell in action while GLaDOS watches from the background. The lower half of the packaging shows off the minifigure and models included and also includes a shot of the Sentry Turrets from within the Portal 2 video game, allowing a direct comparison between the source material and the LEGO model.
The back of the box demonstrates the system of upgrades which are available in the game. These are earned by spending studs and allow you to use a range of abilities in order to access certain parts of each level or the free roaming worlds.
The instruction booklet included is predominantly devoted to advertising for some of the other packs which are available. It seems illogical to include a manual like this one but leave out instructions for the models, only to subsequently post them online, but at least they are available without the need to purchase the game if you don't want to.
Minifigure
Chell is the protagonist of the Portal series and this minifigure is a superb representation of the popular character. The hair piece chosen is a good approximation of her hairstyle in the game while the white shirt and two-tone legs also closely resemble the onscreen character.
The Aperture logo printed on Chell's chest looks great and I hope to see it appear on a tile at some point so we can create testing rooms in the physical realm like those we see in the digital. The head includes an angry expression on one side and a grimace on the other; hardly surprising for somebody whose life consists of solving puzzles, putting up with Wheatley's antics and being insulted by an artifically intelligent computer.
Perhaps the most appealing aspect of the set is Chell's Portal Gun, a brand new piece which almost exactly replicates the weapon in the game. This is made from a rubbery plastic to ensure that the prongs flex when put under pressure rather than snapping off. An unfortunate by product of this is that placing the accessory in the hands of a minifigure is a bit tricky, but it's a worthy compromise in my opinion and the resultant element looks brilliant.
Each LEGO Dimensions minifigure comes complete with a unique toy tag base which contains the electronics used to transfer the character from the toy pad to the game. Chell's base is decorated with white and orange designs in addition to the Aperture logo, acting as a superb display stand for the figure as well as an integral part of the video game.
The Completed Model
Two models are included to accompany Chell, the first of which is a Companion Cube. This item helps the player in the game and it is represented nicely here, although the lower half is only present to provide additional pieces for making alterations to the model.
Although this is inaccurate it looks fine in my opinion, giving the impression that the cube is floating, but you can easily remove it so the Companion Cube is more faithful to the game if you wish. The five tiles which form the exterior are printed and closely resemble the design seen in Portal 2, complete with little pink hearts in the centre of each one.
The model can be reconfigured into a laser deflector or gold heart emitter and they both look like decent creations, but I will be keeping mine assembled as the Companion Cube, at least in the physical realm. Each model is set on a programmable toy tag which the game will associate with the particular item.
The second model is a Sentry Turret, a constant threat in both Portal video games. In LEGO Dimensions it is instead a vehicle which can be controlled by the player and its rapid-fire machine guns are used to heat up panels and assist in solving puzzles.
Pieces are oriented in almost every direction on this model and its shape is quite faithful to the source material, using several curved white slopes to capture the sleek technology of Aperture equipment. The machine gun barrels are represented using light bluish grey 'apollo' studs, five of which are included in this pack. These are always very useful but this colour is particularly appealing.
Gameplay
While the basic controls are like those of any other LEGO game the addition of the toy pad introduces a variety of new functions. Each Keystone encountered during the game relates to an interaction with the toy pad which usually involves following a colour pattern or trying to match a series of colours on the pad with those in the game.
The Portal 2 level makes use of many such mechanics, but its greatest appeal for me was identifying the functions which are retained from the original games and have been altered to fit into the LEGO universe. These include springboards, buttons which must be weighed down and constantly moving panels, as well as the obligatory portals of course. While portals can be created just about anywhere in the original Portal video games only certain surfaces can be used in LEGO Dimensions. This limits access but makes perfect sense as it keeps you on task as you play through the level.
Although the gameplay is entertaining, I was disappointed by its length. It took me just under forty minutes to play from beginning to end, admittedly without finding all of the minikits and secrets, less than I was anticipating given the cost of each level pack. On the other hand, those forty minutes were hugely entertaining. The attention to detail is clear to see as the level proceeds, with references to the plot of both Portal games as well as cameo appearances from Atlas and P-Body! The gameplay is good, but it is these little details included to satisfy the fans which set it apart in my opinion.
There are many more references to be discovered in the adventure world which can be accessed with the Portal level pack. This area allows the player to roam freely through the many levels of Aperture Science, finding Chell's 'relaxation vault' from the very start of the first game as well as a huge number of other familiar locations and images.
Here there is a healthy spread of gold bricks to be found as well as a stud meter to fill. In true Portal fashion GLaDOS will berate your every move as you explore and you can also find Wheatley, several Cores and even hear the recognisable voice of J.K. Simmons as Cave Johnson, the owner of Aperture Science, in recorded messages which boom through the story level and the adventure world.
Overall
I think this is one of the best packs released as part of the first wave. If you have an interest in the Portal video game series then you will absolutely love playing through these levels in LEGO Dimensions and the fun of finding so much familiar material is well worth the price of £29.99 or $29.99. It is unfortunate that the level following a linear story is not longer, but the adventure world is large enough to explore for hours and still not find every hidden secret. The physical aspect of the set is also excellent, offering a character few would have expected in minifigure form.
If you are purely interested in LEGO Dimensions and have not played Portal before then I still think this pack is a worthy addition to your collection, although you might favour some of the other packs if you are a fan of The Simpsons or Back to the Future.
View more articles »