In The News
View all discounts | Compare Amazon prices | Hide these alerts | @BargainwatchNA
Since it was announced that LEGO would be on board with Jurassic World, it was pretty clear that the Jurassic Park license was going to be allowed back to Ideas eventually, and that time has come.
Jurassic Park is therefore the second property to accomplish this, Doctor Who being the first.
For a quick review of how IP works on Ideas, in practice, any IP, that is not obviously outside of brand fit or on the "verboten list" can be posted to Ideas. When a project reaches 1000 support and 5000 support there is usually a check for availability of the IP prior to the Official Comment by the Ideas staff. If the license for construction toy is being held by a third party, that project, and all projects with that IP are archived and it is added to the "verboten list". Occasionally subjects will be added from the review process (like Firefly) or if they get a lot of attention (Green Day).
Senteosan has already resubmitted his very popular project that was taken down when the IP was swept.
The review process, interestingly enough, holds true for even the most obvious of licensing conflicts such as properties that are exclusively held by Hasbro, such as Transformers (example project here), which even, already has its own construction toy line.
I received this from Georgia Smith who works for the producers of the BBC TV Collectaholics programme:
"We are currently producing the second series of Collectaholics for BBC2, a primetime show presented by antiques expert Mark Hill which explores people's passion for collecting. We are looking for enthusiastic collectors of Lego to feature on the programme. The programme explores why people collect, talks to collectors about their favourite pieces and also looks into the social history of Lego.
"Do you have a house full of Lego models, or thousands of pieces of Lego waiting to be constructed into something amazing? We would love to hear from you!"
Rather than post Georgia's details here, let me know if you're interested and I'll pass them on.
You will recall from the first series that it could be a great opportunity to get your LEGO room sorted out, fixed up and your collection valued, as well of course of getting you, and our favourite collectable, onto TV.
Me? My collection's tidy already :-)
The second Minecraft set that LEGO kindly sent us to review is 21115 The First Night which features a building complete with pigsty, Steve, a Creeper and a pig.
Stylistically, it's similar to The Farm that we reviewed yesterday and in fact there's a nice surprise related to it that's revealed at the back of the instructions, as you'll see later.
Here's the front of the box showing everything inside.
The back shows how the set fits together and hinges along with details from inside.
The box is actually quite heavy, heavier than you expect it to be when you first lift it. One reason becomes apparent from the photo below: it's chock-full of 2xn basic bricks and large plates. The other reason is that the instructions are printed on a much higher quality and weight of paper than usual. It's very glossy and almost card-like. If I had to guess I'd say it's something like 100gsm.
The bags are numbered 1 to 3 which makes construction easier.
Bag 1 builds the base, the bottom of the walls and the interior of the house. There's a chest filled with what seems to be an obligatory baguette, a crafting table, a bed and what I think must be a fireplace.
This printed brick, mounted on 'hot' 1x1 trans orange and yellow plates so I must assume it's a fireplace, or cooker or something. (Edit: it's a furnace).
Steve is the same as that in The Farm. The Creeper is made from four parts: a new body/leg part, two 1x2 tiles and a new square head.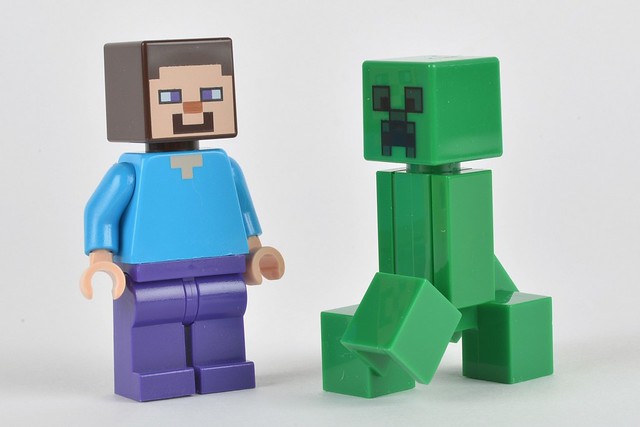 The body part is very strange and useful for nothing else, I suggest.
The set comes with three tools/weapons: pick axe, sword and axe.
Bag two completes the sides of the house. Note how the walls are built predominately from 2x2 bricks to give it a blocky appearance. The windows could have been made from 1x4x3 and 1x2x3 panels but instead they are made from 1x2 bricks which is in keeping with the blocky aesthetic.
The building is hinged to provide access to the interior. The pickaxe can be stowed away on the wall using the gold clip. (I removed it for the photo of the tools above).
Finally, bag three builds the roof, the sty and adds a small grassy baseplate area on the right.
The two roof sections can be removed and placed alongside the other grassy parts to extend the area.
And here's the nice surprise... It's been designed to tessellate with The Farm and when they've been slotted together it looks fantastic: a good sized, sprawling, area. I like the way the front and sides are not finished off neatly, which will encourage extension and experimentation.
New parts wise, other than the heads and those I mentioned in The Farm review, I think the only ones are the pig's legs, Brick 1x2 with groove, in pink.
However there really are a lot of basic bricks in it, and in useful colours too. The inventory hasn't been published by LEGO yet but by my reckoning there are some 130-odd 2xn bricks in it. So if you're not much interested in the set itself but need them in bulk, it makes a good parts pack.
I've been pleasantly surprised by this and The Farm. I was expecting not to like Minecraft sets at all but they have a certain 'back-to-basics' charm and I think they successfully translate the Minecraft environment into LEGO. In fact I think I'll be buying more of them once they're available at shop.LEGO.com.
Overall it's another delightful set that could be just the catalyst needed to drag kids away from building in the virtual world to building in the real one which I am sure is the intention of LEGO.
Again, I have no idea of prices but given the part count and overall weight I would not be surprised if it's £35 / $45. If you've bought the sets and know the prices, do let us know in the comments.
The new range of minifig-scale Minecraft sets are now starting to appear on shelves across the world and will be available from shop.LEGO.com next week, on November 1st. LEGO has kindly sent us two sets to review: 21114 The Farm and 21115 The First Night.
Let's start off with The Farm...
Let me start off by saying that I know next to nothing about Minecraft and have never played it. However I have seen how captivated 10-year olds are when they play it at my local kids' computer club, so I have witnessed its appeal.
To this non-expert then, The Farm looks to be one of the best of the six sets to be available by virtue of the fact it contains Steve, a sheep and a cow as well as some colourful crops.
The front of the box shows all of this so consequently makes it an attractive proposition.
The main picture on the back shows Steve with a pumpkin head chasing the skeleton off his farm.
Inside the box are two numbered bags, three 16-wide plates and the instruction book.
Bag one contains Steve, the sheep and the cow, along with parts for the paddock area.
Steve comprises classic minifig parts and a new cubic head that measures approxiamately 11.5mm square, which I think makes it 1.5 studs in size.
Apart from the face, there's no other printing on it.
The cow and sheep heads are the same size as Steve's, but with a cut-out at the back, and a 1x2 plate shape on the bottom of each to attach it to the animal's body. They are all printed and made from a softer-than-ABS plastic.
Here's Steve's spade:
The field sits on the 16x16 plate which is raised above ground level by a layer of bricks. The set contains a wide variety of medium nougat pieces, a colour first introduced in Prince of Persia sets in 2010, some of which are new, such as the treasure chest, presumably doubling as a picnic basket here given it contains a baguette, and the 2x2 jumper plates.
I don't know what this is, but I suspect someone will enlighten me. Whatever it is, it's great to see it's printed. In fact there are no stickers at all in this set which will please the sticker-haters among us, me included. (Edit: it's a crafting table.)
Bag two provides the skeleton and parts for the rocky/river area. The skeleton's body is made from standard parts and it also has one of the new square heads.
It's armed with a bow.
The second section goes together quickly and joins to the first. The tree at the back is a birch, apparently. It has a couple of black bricks in it, round the back.
Parts-wise, apart from the new heads and medium nougat pieces, I believe the only new parts in this set are the light orange carrot tops, which provide a welcome addition to the range of available foliage pieces.
Note the pumpkin, which is another of the new head pieces.
The front of the box claims you can 'build your own creations' (who would have thought!) and that 'inspiration [is] included'. What's actually provided is pretty pathetic if I'm honest: it suggests to remove the rocky area around the river and rebuild it into a diving platform, then stack the four corners of the paddock on top of each other for Steve to stand on. That's it. I guess if nothing else it might persuade kids who might not otherwise fiddle about with it once built to do so.
So, what did I like about it? Actually quite a lot. I'd say it's fairly 'juniorised' but that's not a bad thing in this case. It contains a high proportion of good old basic bricks, plates and a few slopes and as such is an excellent 'back to basics' set that doesn't rely on large specialised and otherwise useless pieces to make it easy to build. It maintains the blocky appearance of the game but with enough embellishments -- carrots, flowers, etc. -- to make it interesting.
The minifigs and animals are great, although it's perhaps disappointing that the style of the animal heads make them unsuitable for use in a non-Minecraft minifig environment given we don't have a proper minifig-scale sheep as yet.
The lack of stickers is also a very big plus.
And what didn't I like? I don't think there is anything not to like. I appreciate it won't appeal to everyone: the lack of detail, large number of basic bricks and general blockiness of it won't satisfy those who like highly-detailed display pieces, but as a set that could be a Minecraft-player's first introduction to LEGO, it's perfect.
I don't know prices yet, but I would imagine it will be around the £19.99, $25 mark, which seems reasonable.
Who would have thought back in 2012 when the original Cuusoo Minecraft set was launched, that it would be so successful that it would spawn a series of minifig-scale sets released just in time for the Christmas rush two years later...
Custom minifig-maker Minifigs.me has been busy creating a range of film stars for the book Brick Flicks by Warren Elsmore, where they're used to recreate iconic scenes and posters from films spanning almost every genre. You can now buy many of them from their website.
I've been provided with two minifigs, based on characters from a popular Disney film, to review. See pictures after the break.
Both minifigs feature a custom-printed head and a full body print across torso and dress, which have been printed together to ensure a seamless pattern. The designs are great, there's an impressive level of detail in the dresses, and they are well printed.
They both also have custom capes which are very high quality, better than those from LEGO in fact. The dark red one is made of a much thicker material that won't get creased as easily as a LEGO one does. The light blue one is translucent and sparkly.
They are not cheap (£12 each or £23 the pair) but you are buying high-quality hand-made pieces of art so on that basis I would say the price is reasonable.
There's not much more to say about them, really, other than to reiterate that they are very attractive and well made. Head on over to Minifigs.me to buy a set.
Here are more images of their Brick Flicks characters:
Guy Himber is at is again with his crowd funded "Crazy Bricks."
This time around the subject is Mouse Guard, an avant-garde comic series set in a world much like our Earth but instead of humans being around, you have sentient mice. Not giant Mickey mice, but your standard scale mice with minimal physical anthropomorphism.
It is certainly an interesting read and the art is quite phenomenal. You don't have to take my word for it as it is an Eisner award winning publication.
Well, back on point to why we are all here. Himber is crowd sourcing the production of minifig compatible Mice head for minifigs and a variety of medieval weapons.
I gotta say, I love it when minifigs are presented as "actual size" and Guy has proven he can deliver on these kickstarters.
The largest LEGO show to be held in the UK is now just five weeks away. The organisers are looking for volunteers. If you fancy helping in return for free entry tickets, read on...
Now that we're getting nearer to BRICK 2014, we're planning each area of the show and we need your help! The show won't happen without staff to help out the public and we'd really rather have AFOLs helping out wherever we can. There are around 50 volunteer positions available each day throughout the show over the public days doing various tasks. You don't need any experience, just a good attitude and energy! If you'd like to help out at the show, then we've put together some of the key facts:
What do we need?
You must be able to commit to at least one full day's volunteering.

Public Days:
You will be undertaking a range of roles from looking after visitors playing the Brick Pits (over 1 million bricks are available for visitors to build with at the show), helping visitors complete their section of the mosaic or even helping Airigami with their big balloon build among others.
Days start with a 9am briefing, so you need to be on site ready to go from 8:45am at the latest.
Days will finish at approximately 7pm. After the public leaves at 6pm there will be various tasks that need doing to re-set the areas ready for the following day, or to assist in the tear-down on the final day of the show.
When you arrive, you will be given your rota for the day, which will specify which areas you are covering when, and when your breaks will be.

Build & Break days:
They will involve a variety of tasks, but will definitely include a certain amount of moving items around the show floor (300 metres by 100 metres). If you wish to volunteer for these days please make sure that you are physically fit enough to do so.
These will have different start and end times.
If you are going to be working on the Build & Break days you will be given further specific information nearer the time.

What do we offer in return?
One pair of standard entry tickets to BRICK 2014 valid for any one day of the show, for each day that you volunteer with us. (i.e. volunteer for one day, you get one pair of tickets; volunteer for four days, you get four pairs of tickets).
Lunch and tea and coffee on each day you volunteer.
You will be provided with a BRICK 2014-branded T-shirt, which you must wear whilst working at the show.
How do you apply?
Please complete this short webform: http://brick2014.fms4.net/volunteers/vols if you are interested in applying. (If you want to apply, you must complete it - it's the only way we can keep track of who is doing what / needs what.)


Anything else I need to know?
It's going to be busy!
The event is at ExCeL, London. There is parking onsite, but it's £15/day and I can't do anything about that. By Public Transport you need to get the 'Customs House for ExCeL' DLR station and then it is only a couple of minutes walk to the venue.
if you are interested in booking a hotel room this is the link to the deals we have secured: http://www.miceconcierge.com/events/BRICK2014
View more articles »