In The News
Shop.LEGO.com VIP members have early access to the Black Friday Cyber Monday deals today!
In Europe the deals are:
Please use these links to place your orders: UK | France | Germany |Austria.
In the USA and Canada, the deals are:
Likely to be similar to the above but we don't know full details yet.
Please use these links to place your orders: USA | Canada.
Remember to log in to your VIP account once you're at shop.LEGO.com to take advantage of the offers.
Although you don't need to own the Skating Scene to enter our competition, it'll be much easier to do so if you do, so get ordering today!
View all discounts | Compare Amazon prices | Hide these alerts | @BargainwatchNA
Minas Tirith specifically, and Lord of the Rings in general, is one of the most popular (and common) subjects on LEGO Ideas.
At 9950+ supporters, Lord of the Rings Set: Minas Tirith has the distinction of being the first LOTR based project to reach review.
I know at least one Brickset commenter that will be thrilled to see this project reach its goal. ;)
If you love Minas Tirith but are "supporting on a budget", I must recommend this tiny Tirith which is almost at 1000 support.
It was only a matter of time before the press release for the much anticipated 10246 Detective's Office arrived and here it is! Unfortunately Huw is away on holiday at the moment so the images will not be added to the database for a couple of weeks. You can however view them on the Brickset Flickr photostream.
Anyway, the set will be available in January as expected. Here is the press release:
10246 Detective's Office. Ages 16+. 2,262 pieces. US $159.99 - CA $199.99 - DE 149.99€ - UK £132.99 - DK 1399.00 DKK *Euro pricing varies by country. Please visit shop.LEGO.com for regional pricing.
Discover a world of mystery and adventure with the awesome LEGO® Creator Expert Detective's Office, featuring unique elements and surprises. Step through the open archway and into the barbershop, where seated customers are pampered in the reflection of a large wall mirror, while next door, competitors play pool and darts beneath the comforting whir of a rotating ceiling fan. Venture to the first floor and you'll find the detective's office, his desk strewn with clues, a safe containing valuable evidence and a concealed wall compartment. Then visit the adjacent bathroom, featuring a classic pull-chain toilet, before taking the stairway to the well-equipped kitchen, from where you can access the roof terrace, complete with large water tower. This latest addition to the LEGO Modular Building series is packed with unsurpassed detail and hidden surprises. Easy-to-remove roof and ceilings provide access to the delightful interior, while the exterior of the building features a decorative roofline and a beautifully designed façade. Can you solve the smuggling mystery? Includes 6 minifigures with assorted accessories: Detective Ace Brickman, Al the barber, dart player, pool player, police woman and a mysterious lady in red.
Includes 6 minifigures with assorted accessories: Detective Ace Brickman, Al the barber, dart player, pool player, police woman and a mysterious lady in red.
Features a pool hall, barbershop, detective's office, bathroom, kitchen, water tower and a cat.
Detective's office features a desk, assorted clues, brick-built lamp, filing cabinet, fan, safe, painting, concealed wall compartment, newspaper, menu, wanted poster and a wall lamp.
Pool hall features a hinged, rotatable ceiling fan, pool table, printed dartboard, pool cues, pool balls and a drinking glass.
Barbershop features never-before-seen scissors and reflective mirror element, 2 wall lamps, barber's chair, hinged cabinet, 2 mannequin heads and a broom.
Bathroom features a detailed pull-chain toilet.
Kitchen features a stove, barrel, table, cabinet, refrigerator, wall clock and a rolling pin.
Accessories include Ace Brickman's brimmed hat, briefcase, magnifying glass and a police hat.
Detach the roof and floors for easy access.
Search for hidden clues.
Help Ace Brickman solve the mystery!
Special elements include never-before-seen scissors and reflective mirror element, printed dartboard, wanted poster, 1x1 round plate with hole in black, painter's roller in black, designing element 1x2x2 in dark gray, 1x2 bricks in light blue, 1x3 tiles in brown and a 32x32 base plate in brown.
Detective's Office measures over 10" (27cm) high, 9" (25cm) wide and 9" (25cm) deep.
Collect and build an entire town with the LEGO® Creator Expert Modular Building series: 10232 Palace Cinema and 10243 Parisian Restaurant.
The Design Video has now been posted by LEGO on their Youtube channel:
I have to say this is looking like a great set to me and one which I will certainly be purchasing at the first opportunity. What do you think?
It appears that sighting season has started earlier than usual this year, with the first of the 2015 sets turning up in Canadian Toys R Us stores. This is much earlier than they might usually be expected to arrive so can only bode well for seeing the sets in your area prior to Christmas.
Only a couple of City sets have appeared so far that we are aware of, 60082 Dune Buggy Trailer and 60083 Snowplough Truck.
If you are in Canada and try your luck, please report back on what you find.
Thanks to R4-G9 and The Brick Fan for the news.
Today we kick-off our festive building competition to win fantastic prizes sponsored by the LEGO Affiliate program!
Before I explain how to enter, take a look at what you could win:
1st prize: your choice of the January exclusives: Slave 1 or (presumably) Detective's Office.
2nd prize: the next Ideas set (Birds, I presume).
3rd prize: the next Ideas set (Birds, I presume).
All you have to do to be in with a chance of winning is to build a festive model using only parts from 40106 Toy Workshop and 40107 Ice Skating Scene and add a maximum of two photos of your model to the Brickset competition pool on flickr by midnight on Wednesday December 10th. You can read the full terms and conditions below. A panel of judges will decide the winners. I will invite people to participate in the judging nearer the closing date.
You don't need to own the sets -- you can use parts from your collection and even make colour substitutions if needed (see the rules below) -- but obviously it will be easier to enter if you do. Inventories of the sets are shown below. You can use the spare parts that come in the sets.
If you're a VIP member, you will be able to get hold of the Ice Skating Scene tomorrow from shop.LEGO.com -- a whole week earlier than it's available to everyone. A news article will go live at midnight tonight with more information.
So, what can be built with the two sets...? LEGO kindly sent us a few a while ago and here's what the Brickset team has come up with:
Huw
"I've made an emergency present delivery craft. When problems occur in Santa's supply chain, and presents don't make it to the North Pole in time for delivery to kids around the world on his sleigh, his Elf helpers are dispatched in vehicles like this to make the deliveries instead.
"The craft is equipped with the latest navigation aids and radar blocking technology (the thing that looks like a gun sticking out the front!)
"The powerful fairy-dust powered engines can be seen at the back, along with the hatch used to drop presents down chimney pots. The craft is pretty unreliable so a set of tools is provided for running repairs.
"A second elf can fit in the back, if he takes his hat -- and ears -- off. From there he can throw presents out the hatch into the chimneys below.
"Rubbish, isn't it? I am sure you can do better!"
Chris - CapnRex101
"Santa and his elves are always looking to find new ways of speeding up the process of making and dispatching toys worldwide.
"This year they are aided by the brand new P.A.W (Present Auto Wrapper) machine which makes irregularly wrapped presents a thing of the past!
"All you have to do is drop the gift in the top and it will come out at the bottom compressed and wrapped, ready to be slid down to the sorting room along the channels of ice laid out for the task."
Lucy - LostInTranslation
"I've made the worst Christmas jumper ever!"
"Everyone seems to be wearing them the last few years: the ubiquitous Christmas jumper. Let's face it, they're all a bit naff so you might as well embrace it and go the whole hog with full-on Seasonal gaudiness!
"My lovely model Maud is sporting a white jumper with Christmas tree motif, jaunty red Christmas crackers and 'frosty' trans blue trim. She's finished off her outfit with a traditional Santa hat and very tasteful elf earrings, so she's all set for the big day now!
"OK, let's be honest. Maud is not exactly a looker. But hopefully you guys will be able to come up with something a bit more stylish!"
Over to you!
So, that's what we've come up with, now it's over to you! Feel free to embellish your entry with a narrative, too.
Set inventories
Online Inventories are available here and here, or if you prefer, here are scans from the instructions:
Full terms and conditions
One entry per member.
The entry has to be new and made only for this site's contest, a model cannot enter the contest on the other sites that are also running the competition.
The entry has to be Christmas themed.
An entry related to the topics below that does not fit the LEGO brand values will not be approved as an entry for this contest. We reserve the right to decide how an entry fits these standards.

Politics and political symbols.
Religious references including symbols, buildings, or people.
Sex, drugs, or smoking.
Alcohol in any present day situation.
Swearing.
Death, killing, blood, terrorism, or torture.
First-person shooter video games.
Warfare or war vehicles in any modern or present-day situation.
Racism, bullying, or cruelty to real life animals.

You do not need to own the sets to participate as instructions and inventories will be available through the copies sent out prior to the contest.
Only the elements in the two sets can be used for the entry (alternate colours are allowed if you do not have the element in the correct color).
The judges' decision is final and no correspondence will be entered into.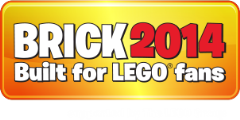 Brick 2014 is now just one week away and excitement is building for the UK's biggest LEGO event! From the 27th - 30th November ExCeL London will be awash with some of the world's greatest builders, representatives of LEGO and of course Brickset members.
I am aware of several members who will be exhibiting and undoubtedly plenty more will be visiting. I will be on the Blocks magazine stand for most of the time so if you see me around come and say hello! We may even have a (non-compulsory) Brickset team photo...
I look forward to seeing some of you!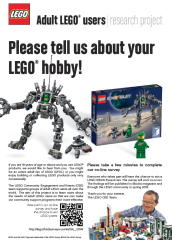 As part of an adult LEGO user research project, a specially formulated on-line survey has gone live today to learn more about AFOLs and casual LEGO users. The findings will be shared with the LEGO community and will influence how the CEE team allocate their resources in 2016.

And, because this is not just another survey, anyone taking part has the opportunity to win LEGO prizes! Yes, this is a first. So please take 10 minutes to complete the survey.

In addition, this research project is seeking input from casual adult LEGO users. So if you have any adult friends or acquaintances who use LEGO products on a casual basis, and are not members of a LUG, please encourage them to take the survey. They too will stand a chance of winning LEGO prizes. It will remain live until 17th December.
View more articles »