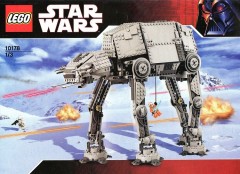 Inventory for 10178-1: Motorised Walking AT-AT
This set inventory has been obtained from LEGO Customer Services replacement parts page. It may not be complete or accurate. The right-hand column indicates whether the piece may be available from LEGO Customer Services.
Important note: We do not control this inventory and cannot currently make changes to it. Use it as a guide to the contents of the set, or to find out part numbers when requesting replacements.
Download the inventory as a CSV file »
View the Rebrickable.com inventory for this set »
View the inventory at BrickLink.com »
| Part | Image | Qty | Colour | Category | Design | Part name | In sets | Introduced in |
| --- | --- | --- | --- | --- | --- | --- | --- | --- |
| 4253815 | | 4 | Black | System: Bricks, Special | 52107 | Brick 1X2 W. Four Knobs | 116 | 2005 |
| 4233487 | | 2 | Black | System: Bricks, Special Ø4.85 Hole And Connecting Bush | 32064 | Brick 1X2 With Cross Hole | 167 | 2000 |
| 362626 | | 2 | Black | System: Figure, Heads And Masks | 3626 | Mini Head | 63 | 1991 |
| 4498713 | | 1 | Black | System: Figure, Weapons | 58247 | Blaster Medium | 122 | 2004 |
| 4124096 | | 3 | Black | System: Functional Elements | 6134 | Plate 2X2 (Rocking) | 202 | 1999 |
| 4516020 | | 4 | Black | System: Plates, Special | 3184 | Coupling Plate 1X4 W. Ball | 10 | 2007 |
| 403226 | | 6 | Black | System: Plates, Special Circles And Angles | 4032 | Plate 2X2 Round | 354 | 1994 |
| 614126 | | 10 | Black | System: Plates, Special Circles And Angles | 6141 | Round Plate 1X1 | 592 | 1991 |
| 4528331 | | 1 | Black | System: Rubbers And Strings | 63143 | String W. Knobs 10 M | 25 | 2006 |
| 6037558 | | 1 | Black | System: Rubbers And Strings | 14226 | String 11M W. 2 Knobs | 54 | 2000 |
| 4177444 | | 4 | Black | Technic: Beams | 43857 | Technic 2M Beam | 72 | 2002 |
| 4143466 | | 4 | Black | Technic: Beams, Special | 32557 | Technic Crossblock 2X3 | 66 | 2001 |
| 370526 | | 9 | Black | Technic: Connectors | 3705 | Cross Axle 4M | 867 | 1990 |
| 370626 | | 4 | Black | Technic: Connectors | 3706 | Cross Axle 6M | 692 | 1990 |
| 4107085 | | 1 | Black | Technic: Connectors | 32013 | Angle Element, 0 Degrees [1] | 319 | 1997 |
| 4109810 | | 43 | Black | Technic: Connectors | 32062 | 2M Cross Axle W. Groove | 495 | 1993 |
| 4121715 | | 61 | Black | Technic: Connectors | 2780 | Connector Peg W. Friction | 1490 | 1993 |
| 4140801 | | 18 | Black | Technic: Connectors | 32054 | 2M Fric. Snap W/Cross Hole | 320 | 1997 |
| 4184169 | | 4 | Black | Technic: Connectors | 6628 | Ball With Friction Snap | 276 | 1996 |
| 4198367 | | 2 | Black | Technic: Connectors | 45590 | Damper 2M | 84 | 2003 |
| 4220098 | | 2 | Black | Technic: Connectors | 47994 | Dbl.Snap 2M. W/2 X Ø3.16 Snap | 14 | 2004 |
| 4512363 | | 11 | Black | Technic: Connectors | 59443 | Cross Axle, Extension, 2M | 204 | 2005 |
| 4248204 | | 4 | Black | Technic: Functional Elements, Gear Wheels And Racks | 32072 | Technic Angular Wheel | 65 | 2005 |
| 4142236 | | 2 | Black | Technic: Half Beams | 32449 | Lever 1X4, Without Notch | 109 | 2000 |
| 4143187 | | 2 | Black | Technic: Half Beams | 6575 | Comb Wheel | 31 | 2001 |
| 4162857 | | 2 | Black | Technic: Half Beams, Special | 41678 | Technic Cross Block/Fork 2X2 | 103 | 2002 |
| 4563044 | | 6 | Black | Technic: Half Beams, Special | 33299 | 2X1X3 Steering Knuckle Arm | 74 | 2001 |
| 4186017 | | 12 | Brick Yellow | Technic: Connectors | 6562 | Connector Peg/Cross Axle | 292 | 1997 |
| 4514554 | | 10 | Brick Yellow | Technic: Connectors | 32556 | 3M Connector Peg | 197 | 2007 |
| 4666579 | | 12 | Brick Yellow | Technic: Connectors | 6562 | Connector Peg/Cross Axle | 542 | 2000 |
| 4514555 | | 1 | Brick Yellow | Technic: Functional Elements, Gear Wheels And Racks | 32269 | Double Conical Wheel Z20 1M | 28 | 2007 |
| 4565452 | | 5 | Brick Yellow | Technic: Functional Elements, Gear Wheels And Racks | 6589 | Conical Wheel Z12 | 122 | 2007 |
| 4143005 | | 37 | Bright Blue | Technic: Connectors | 4274 | Connector Peg W. Knob | 482 | 2001 |
| 4206482 | | 40 | Bright Blue | Technic: Connectors | 43093 | Conn.Bush W.Fric./Crossale | 1023 | 2002 |
| 4514553 | | 23 | Bright Blue | Technic: Connectors | 6558 | Connector Peg W. Friction 3M | 464 | 2004 |
| 4214921 | | 1 | Bright Orange | System: Mini Figure | 73200 | Mini Lower Part Koks/Orange | 33 | 2004 |
| 4500188 | | 1 | Bright Orange | System: Mini Figure | 76382 | Mini Upper Part No."1301" | 4 | 2006 |
| 4128598 | | 1 | Bright Red | Technic: Beams, Special | 32184 | Double Cross Block | 41 | 2000 |
| 4227155 | | 6 | Bright Red | Technic: Connectors | 6590 | Bush For Cross Axle | 227 | 2004 |
| 4526984 | | 1 | Bright Red | Technic: Connectors | 62462 | Tube W/Double Ø4.85 | 46 | 2006 |
| 4107800 | | 3 | Bright Yellow | Technic: Connectors | 32039 | Catch W. Cross Hole | 47 | 1997 |
| 4548731 | | 1 | Cool Silver, Drum Lacquered | System: Figure, Special | 86132 | Light Sword Stock, Drum Lac. | 33 | 2006 |
| 4211103 | | 5 | Dark Stone Grey | System: Bricks | 3010 | Brick 1X4 | 205 | 2001 |
| 4211111 | | 2 | Dark Stone Grey | System: Bricks, Special Ø4.85 Hole And Connecting Bush | 3700 | Technic Brick 1X2, Ø4.9 | 184 | 2003 |
| 4504378 | | 40 | Dark Stone Grey | System: Bricks, With Slope | 54200 | Roof Tile 1X1X2/3, Abs | 246 | 2005 |
| 4289542 | | 2 | Dark Stone Grey | System: Connectors | 48729 | Stick Ø 3.2 W. Holder | 188 | 2004 |
| 4218750 | | 1 | Dark Stone Grey | System: Decoration Elements | 47458 | Plate W. Bows 2X1½ | 12 | 2006 |
| 4211006 | | 2 | Dark Stone Grey | System: Figure Accessories In Hand | 3837 | Mini Shovel | 90 | 2003 |
| 4498711 | | 1 | Dark Stone Grey | System: Figure, Head Clothing | 57900 | Trooper/Atst Helmet | 3 | 2007 |
| 4566028 | | 2 | Dark Stone Grey | System: Figure, Weapons | 86208 | Butt | 29 | 2007 |
| 4235863 | | 1 | Dark Stone Grey | System: Mini Figure | 73200 | Mini Lowerpart M.Grey/Dk.Grey | 8 | 2004 |
| 4293278 | | 1 | Dark Stone Grey | System: Mini Figure | 76382 | Mini Upper Part No."1263" | 3 | 2006 |
| 4297009 | | 1 | Dark Stone Grey | System: Mini Figure | 73200 | Mini Lower Part Black/Dk.Grey | 31 | 2007 |
| 4210631 | | 22 | Dark Stone Grey | System: Plates | 2412 | Radiator Grille 1X2 | 401 | 2003 |
| 4210651 | | 10 | Dark Stone Grey | System: Plates | 6636 | Flat Tile 1X6 | 163 | 2003 |
| 4210678 | | 4 | Dark Stone Grey | System: Plates | 3832 | Plate 2X10 | 161 | 2002 |
| 4211063 | | 7 | Dark Stone Grey | System: Plates | 3023 | Plate 1X2 | 470 | 2002 |
| 4211065 | | 8 | Dark Stone Grey | System: Plates | 3020 | Plate 2X4 | 466 | 2002 |
| 4211133 | | 12 | Dark Stone Grey | System: Plates | 3623 | Plate 1X3 | 231 | 2003 |
| 4196768 | | 10 | Dark Stone Grey | System: Plates, Special | 2444 | Technic Bearing Plate 2X2 | 51 | 2004 |
| 4210763 | | 4 | Dark Stone Grey | System: Plates, Special | 32530 | T-Beam W. Plate 1X2 W. Tube | 149 | 2004 |
| 4210884 | | 4 | Dark Stone Grey | System: Plates, Special | 44302 | Plate 1X2 W/Fork/Vertical/End | 108 | 2003 |
| 4225733 | | 1 | Dark Stone Grey | System: Plates, Special | 3176 | Coupling Plate 2X2 | 58 | 2004 |
| 4277928 | | 2 | Dark Stone Grey | System: Plates, Special | 44728 | Angle Plate 1X2 / 2X2 | 101 | 2002 |
| 4514441 | | 1 | Dark Stone Grey | System: Plates, Special | 49807 | Flat Tile 2X2 "No. 108" | 4 | 2007 |
| 4579354 | | 4 | Dark Stone Grey | System: Plates, Special | 61252 | Plate 1X1 W/Holder Vertical | 125 | 2004 |
| 4210865 | | 2 | Dark Stone Grey | System: Plates, Special Circles And Angles | 43898 | Parabolic Reflector Ø24X6,4 | 74 | 2004 |
| 4212075 | | 16 | Dark Stone Grey | System: Plates, Special Circles And Angles | 30357 | Plate 3X3, 1/4 Circle | 48 | 2004 |
| 4234938 | | 1 | Dark Stone Grey | System: Plates, Special Circles And Angles | 43719 | Plate 4X4 W/Angle | 34 | 2004 |
| 4561036 | | 1 | Dark Stone Grey | System: Plates, Special Circles And Angles | 43719 | Plate 4X4 W/Angle | 24 | 2007 |
| 4210753 | | 15 | Dark Stone Grey | Technic: Beams | 32526 | Technic Ang. Beam 3X5 90 Deg. | 63 | 2004 |
| 4495931 | | 5 | Dark Stone Grey | Technic: Beams | 32524 | Technic 7M Beam | 74 | 2004 |
| 4603472 | | 11 | Dark Stone Grey | Technic: Beams | 64290 | Technic 11M Beam | 58 | 2004 |
| 4210857 | | 5 | Dark Stone Grey | Technic: Beams, Special | 42003 | Cross Blok 3M | 78 | 2004 |
| 4211050 | | 4 | Dark Stone Grey | Technic: Connectors | 32002 | 1 1/2 M Connecting Bush | 219 | 1997 |
| 4211086 | | 16 | Dark Stone Grey | Technic: Connectors | 6587 | Crossaxle 3M With Knob | 268 | 1995 |
| 4508553 | | 2 | Dark Stone Grey | Technic: Connectors | 59426 | Cross Axle 5,5 With Stop 1M. | 312 | 2003 |
| 4211026 | | 6 | Dark Stone Grey | Technic: Functional Elements | 32005 | Track Rod 6M, | 24 | 2003 |
| 4629920 | | 6 | Dark Stone Grey | Technic: Functional Elements | 32005 | Track Rod 6M, | 15 | 2007 |
| 4514558 | | 1 | Dark Stone Grey | Technic: Functional Elements, Gear Wheels And Racks | 3648 | Gear Wheel Z24 | 90 | 2007 |
| 4223767 | | 14 | Dark Stone Grey | Technic: Half Beams | 6632 | Technic Lever 3M | 56 | 2004 |
| 4239896 | | 8 | Dark Stone Grey | Technic: Half Beams | 32250 | Halfbeam Curve 3X5 | 20 | 2004 |
| 4291337 | | 1 | Light Nougat | System: Figure, Heads And Masks | 83799 | Mini Head "No. 456" | 13 | 2006 |
| 4500909 | | 1 | Light Nougat | System: Figure, Heads And Masks | 58645 | Mini Head No. "490" | 2 | 2007 |
| 4569715 | | 1 | Light Nougat | System: Figure, Heads And Masks | 88820 | Mini Head No "635" | 10 | 2006 |
| 4506078 | | 1 | Medium Stone Grey | Mindstorms: Electric Parts | 58119 | Batterybox 4X11X7 | 26 | 2007 |
| 6074147 | | 1 | Medium Stone Grey | Power Functions: Power Functions | 16511 | Lpf Batterybox Aa 4X11X7 | 28 | 2007 |
| 4211387 | | 4 | Medium Stone Grey | System: Bricks | 3003 | Brick 2X2 | 240 | 2001 |
| 4211388 | | 16 | Medium Stone Grey | System: Bricks | 3004 | Brick 1X2 | 356 | 2001 |
| 4212007 | | 1 | Medium Stone Grey | System: Bricks With Special Bows And Angles | 41747 | Right Shell 2X6 W/Bow/Angle | 17 | 2006 |
| 4212008 | | 1 | Medium Stone Grey | System: Bricks With Special Bows And Angles | 41748 | Left Shell 2X6 W/Bow/Angle | 16 | 2006 |
| 4211636 | | 2 | Medium Stone Grey | System: Bricks, Special | 30414 | Brick 1X4 W. 4 Knobs | 110 | 2003 |
| 4211527 | | 4 | Medium Stone Grey | System: Bricks, Special Circles And Angles | 6222 | Technic Brick 4X4 Round | 23 | 2002 |
| 4529241 | | 2 | Medium Stone Grey | System: Bricks, Special Circles And Angles | 59900 | Nose Cone Small 1X1 | 135 | 2002 |
| 4567448 | | 16 | Medium Stone Grey | System: Bricks, Special Circles And Angles | 85080 | Brick 2X2W.Inside And Outs.Bow | 32 | 2004 |
| 4211442 | | 10 | Medium Stone Grey | System: Bricks, Special Ø4.85 Hole And Connecting Bush | 3702 | Technic Brick 1X8 | 92 | 2004 |
| 4211488 | | 2 | Medium Stone Grey | System: Bricks, With Slope | 4286 | Roof Tile 1X3/25° | 74 | 2003 |
| 4211859 | | 2 | Medium Stone Grey | System: Connectors | 2714 | Technic Stick | 24 | 2005 |
| 4249859 | | 1 | Medium Stone Grey | System: Decoration Elements | 47758 | Roof Tile 4X4 W. Angl./Lat. | 2 | 2005 |
| 4506083 | | 1 | Medium Stone Grey | System: Electric Parts | 58120 | Func. Motor Ø24X6M | 24 | 2007 |
| 6012286 | | 1 | Medium Stone Grey | System: Electric Parts | 58120 | Func. Motor Ø24X6M | 18 | 2007 |
| 4211469 | | 3 | Medium Stone Grey | System: Functional Elements | 3937 | Rocker Bearing 1X2 | 152 | 2002 |
| 4211353 | | 8 | Medium Stone Grey | System: Plates | 2420 | Corner Plate 1X2X2 | 155 | 2001 |
| 4211396 | | 2 | Medium Stone Grey | System: Plates | 3021 | Plate 2X3 | 371 | 2001 |
| 4211397 | | 8 | Medium Stone Grey | System: Plates | 3022 | Plate 2X2 | 428 | 1998 |
| 4211408 | | 1 | Medium Stone Grey | System: Plates | 3036 | Plate 6X8 | 72 | 2002 |
| 4211413 | | 8 | Medium Stone Grey | System: Plates | 3068 | Flat Tile 2X2 | 230 | 2002 |
| 4211414 | | 10 | Medium Stone Grey | System: Plates | 3069 | Flat Tile 1X2 | 263 | 2003 |
| 4211438 | | 12 | Medium Stone Grey | System: Plates | 3666 | Plate 1X6 | 292 | 1998 |
| 4211445 | | 8 | Medium Stone Grey | System: Plates | 3710 | Plate 1X4 | 417 | 1998 |
| 4211451 | | 17 | Medium Stone Grey | System: Plates | 3794 | Plate 1X2 W. 1 Knob | 196 | 2002 |
| 4211452 | | 7 | Medium Stone Grey | System: Plates | 3795 | Plate 2X6 | 335 | 2001 |
| 4211462 | | 2 | Medium Stone Grey | System: Plates | 3832 | Plate 2X10 | 152 | 1998 |
| 4211549 | | 4 | Medium Stone Grey | System: Plates | 6636 | Flat Tile 1X6 | 195 | 2002 |
| 4211836 | | 4 | Medium Stone Grey | System: Plates | 6178 | Plate 6X12 W. 22 Knobs | 17 | 2002 |
| 4211838 | | 9 | Medium Stone Grey | System: Plates | 6180 | Plate 4X6 W. 12 Knobs | 30 | 2002 |
| 4243797 | | 6 | Medium Stone Grey | System: Plates | 3031 | Plate 4X4 | 156 | 2002 |
| 4251149 | | 4 | Medium Stone Grey | System: Plates | 4477 | Plate 1X10 | 109 | 1998 |
| 6066097 | | 17 | Medium Stone Grey | System: Plates | 15573 | Plate 1X2 W. 1 Knob | 314 | 2002 |
| 4211357 | | 1 | Medium Stone Grey | System: Plates, Special | 2432 | Clamp 1X2 | 115 | 2003 |
| 4211369 | | 6 | Medium Stone Grey | System: Plates, Special | 2555 | Plate 1X1 W. Up Right Holder | 190 | 2002 |
| 4211376 | | 2 | Medium Stone Grey | System: Plates, Special | 2817 | Technic Doub. Bearing Pl. 2X2 | 127 | 2001 |
| 4211464 | | 1 | Medium Stone Grey | System: Plates, Special | 3839 | Mini Handle | 62 | 2002 |
| 4211477 | | 2 | Medium Stone Grey | System: Plates, Special | 4081 | Lamp Holder | 117 | 2002 |
| 4211803 | | 4 | Medium Stone Grey | System: Plates, Special | 44301 | Plate 1X2 W/Stub Vertical/End | 52 | 2004 |
| 4211828 | | 4 | Medium Stone Grey | System: Plates, Special | 32529 | T-Beam W. Plate 1X2 W. Knob | 12 | 2005 |
| 4211840 | | 6 | Medium Stone Grey | System: Plates, Special | 44568 | Plate 1X4 W/Stumps Vertical | 88 | 2003 |
| 4211841 | | 6 | Medium Stone Grey | System: Plates, Special | 44570 | Roof 4X4 W. Forks | 39 | 2003 |
| 4237084 | | 2 | Medium Stone Grey | System: Plates, Special | 2476 | Plate 2X2 Inverted W. Snap | 84 | 2004 |
| 4244627 | | 8 | Medium Stone Grey | System: Plates, Special | 48336 | Plate 1X2 W. Stick 3.18 | 233 | 2004 |
| 4282740 | | 8 | Medium Stone Grey | System: Plates, Special | 2436 | Angle Plate 1X2/1X4 | 166 | 2002 |
| 4632575 | | 2 | Medium Stone Grey | System: Plates, Special | 4081 | Lamp Holder | 71 | 2007 |
| 6014615 | | 8 | Medium Stone Grey | System: Plates, Special | 10201 | Angle Plate 1X2/1X4 | 111 | 2007 |
| 6030711 | | 6 | Medium Stone Grey | System: Plates, Special | 12825 | Plate 1X1 W. Up Right Holder | 134 | 2002 |
| 4211352 | | 16 | Medium Stone Grey | System: Plates, Special Circles And Angles | 2419 | Corner Plate 3X6 | 43 | 2002 |
| 4211361 | | 4 | Medium Stone Grey | System: Plates, Special Circles And Angles | 2450 | Corner Plate 45 Deg. 3X3 | 40 | 2004 |
| 4211725 | | 8 | Medium Stone Grey | System: Plates, Special Circles And Angles | 32059 | Plate 4X6 26 Degrees | 25 | 2004 |
| 4211732 | | 8 | Medium Stone Grey | System: Plates, Special Circles And Angles | 41769 | Right Plate 2X4 W/Angle | 69 | 2002 |
| 4211735 | | 8 | Medium Stone Grey | System: Plates, Special Circles And Angles | 41770 | Left Plate 2X4 W/Angle | 69 | 2002 |
| 4211791 | | 2 | Medium Stone Grey | System: Plates, Special Circles And Angles | 43722 | Right Plate 2X3 W/Angle | 86 | 2002 |
| 4211794 | | 2 | Medium Stone Grey | System: Plates, Special Circles And Angles | 43723 | Left Plate 2X3 W/Angle | 87 | 2002 |
| 4258273 | | 1 | Medium Stone Grey | System: Plates, Special Circles And Angles | 50304 | Right Plate 3X8 W/Angle | 43 | 2005 |
| 4258275 | | 1 | Medium Stone Grey | System: Plates, Special Circles And Angles | 50305 | Left Plate 3X8 W/Angle | 42 | 2005 |
| 4278273 | | 32 | Medium Stone Grey | System: Plates, Special Circles And Angles | 2654 | Slide Shoe Round 2X2 | 156 | 2004 |
| 4282786 | | 5 | Medium Stone Grey | System: Plates, Special Circles And Angles | 54383 | Right Plate 3X6 W. Angle | 59 | 2006 |
| 4282789 | | 5 | Medium Stone Grey | System: Plates, Special Circles And Angles | 54384 | Left Plate 3X6 W Angle | 63 | 2006 |
| 4507056 | | 2 | Medium Stone Grey | System: Plates, Special Circles And Angles | 51739 | Plate 2X4X18° | 58 | 2007 |
| 4513164 | | 4 | Medium Stone Grey | System: Plates, Special Circles And Angles | 44875 | Round Plate Ø32X6,4 "At-Te" | 3 | 2007 |
| 4513165 | | 4 | Medium Stone Grey | System: Plates, Special Circles And Angles | 44876 | Parabolic Refl. 6X6 "At-Te" | 2 | 2007 |
| 4211473 | | 2 | Medium Stone Grey | System: Signs, Flags And Poles | 3957 | Whip/Aerial | 137 | 2004 |
| 4259422 | | 1 | Medium Stone Grey | System: Transportation Means, Vehicles | 50943 | Motor 2X2X1 1/3 | 52 | 2005 |
| 4211610 | | 11 | Medium Stone Grey | Technic: Beams | 32140 | Technic Ang. Beam 4X2 90 Deg | 80 | 2003 |
| 4211651 | | 10 | Medium Stone Grey | Technic: Beams | 32316 | Technic 5M Beam | 79 | 2004 |
| 4211655 | | 6 | Medium Stone Grey | Technic: Beams | 32523 | Technic 3M Beam | 85 | 2004 |
| 4211866 | | 6 | Medium Stone Grey | Technic: Beams | 40490 | Technic 9M Beam | 51 | 2004 |
| 4542577 | | 10 | Medium Stone Grey | Technic: Beams | 64871 | Technic 15M Beam | 26 | 2007 |
| 4211775 | | 33 | Medium Stone Grey | Technic: Beams, Special | 6536 | Cross Block 90° | 119 | 1997 |
| 4211880 | | 2 | Medium Stone Grey | Technic: Beams, Special | 44809 | Hto V Beam 90 Degr. | 46 | 2005 |
| 4211375 | | 4 | Medium Stone Grey | Technic: Connectors | 2736 | Ball W. Cross Axle | 162 | 2003 |
| 4211483 | | 2 | Medium Stone Grey | Technic: Connectors | 4274 | Connector Peg W. Knob | 453 | 1997 |
| 4211567 | | 12 | Medium Stone Grey | Technic: Connectors | 32034 | Angle Element, 180 Degrees [2] | 103 | 1997 |
| 4211573 | | 24 | Medium Stone Grey | Technic: Connectors | 32123 | 1/2 Bush | 442 | 1997 |
| 4211639 | | 3 | Medium Stone Grey | Technic: Connectors | 32073 | Cross Axle 5M | 445 | 1995 |
| 4211805 | | 4 | Medium Stone Grey | Technic: Connectors | 44294 | Cross Axle 7M | 293 | 2003 |
| 4211807 | | 8 | Medium Stone Grey | Technic: Connectors | 3673 | Connector Peg | 557 | 1993 |
| 4211815 | | 17 | Medium Stone Grey | Technic: Connectors | 4519 | Cross Axle 3M | 748 | 1995 |
| 4211510 | | 1 | Medium Stone Grey | Technic: Functional Elements, Gear Wheels And Racks | 4716 | Worm | 80 | 2004 |
| 4211561 | | 6 | Medium Stone Grey | Technic: Half Beams | 32006 | Technic Lever 4M | 55 | 1997 |
| 4211574 | | 2 | Medium Stone Grey | Technic: Half Beams | 32056 | Technic Lever 3X3M, 90° | 45 | 2001 |
| 4211653 | | 10 | Medium Stone Grey | Technic: Half Beams | 2905 | Triangle | 16 | 2003 |
| 4211741 | | 19 | Medium Stone Grey | Technic: Half Beams | 41677 | Technic Lever 2M | 80 | 2004 |
| 6051389 | | 1 | Silver Ink | System: Figure, Special | 15556 | Light Sword Stock, No. "1000" | 72 | 2006 |
| 4124073 | | 1 | Transparent Light Blue | System: Signs, Flags And Poles | 30374 | Light Sword - Blade | 119 | 1999 |
| 4514329 | | 1 | White | System: Figure, Hair | 45891 | Storm Trooper Helmet "At-At" | 1 | 2007 |
| 4499946 | | 1 | White | System: Figure, Head Clothing | 83786 | Rebel Helmet "Luke" | 3 | 2006 |
| 4514359 | | 1 | White | System: Figure, Head Clothing | 44360 | Snowtrooper Helmet | 11 | 2003 |
| 4221858 | | 1 | White | System: Mini Figure | 73200 | Mini Lower Part Grey/White | 36 | 2004 |
| 4514334 | | 1 | White | System: Mini Figure | 76382 | Mini Upper Part No.1344 | 7 | 2007 |
| 4516019 | | 1 | White | System: Mini Figure | 76382 | Mini Upper Part No."1346" | 3 | 2007 |
Colour summary
| Colour | Unique | Total |
| --- | --- | --- |
| Black | 27 | 213 |
| Brick Yellow | 5 | 40 |
| Bright Blue | 3 | 100 |
| Bright Orange | 2 | 2 |
| Bright Red | 3 | 8 |
| Bright Yellow | 1 | 3 |
| Cool Silver, Drum Lacquered | 1 | 1 |
| Dark Stone Grey | 40 | 260 |
| Light Nougat | 3 | 3 |
| Medium Stone Grey | 86 | 556 |
| Silver Ink | 1 | 1 |
| Transparent Light Blue | 1 | 1 |
| White | 6 | 6 |
| Total | 179 | 1194 |
Category summary
| Category | Unique | Total |
| --- | --- | --- |
| Mindstorms: Electric Parts | 1 | 1 |
| Power Functions: Power Functions | 1 | 1 |
| System: Bricks | 3 | 25 |
| System: Bricks With Special Bows And Angles | 2 | 2 |
| System: Bricks, Special | 2 | 6 |
| System: Bricks, Special Circles And Angles | 3 | 22 |
| System: Bricks, Special Ø4.85 Hole And Connecting Bush | 3 | 14 |
| System: Bricks, With Slope | 2 | 42 |
| System: Connectors | 2 | 4 |
| System: Decoration Elements | 2 | 2 |
| System: Electric Parts | 2 | 2 |
| System: Figure Accessories In Hand | 1 | 2 |
| System: Figure, Hair | 1 | 1 |
| System: Figure, Head Clothing | 3 | 3 |
| System: Figure, Heads And Masks | 4 | 5 |
| System: Figure, Special | 2 | 2 |
| System: Figure, Weapons | 2 | 3 |
| System: Functional Elements | 2 | 6 |
| System: Mini Figure | 8 | 8 |
| System: Plates | 23 | 190 |
| System: Plates, Special | 23 | 96 |
| System: Plates, Special Circles And Angles | 21 | 138 |
| System: Rubbers And Strings | 2 | 2 |
| System: Signs, Flags And Poles | 2 | 3 |
| System: Transportation Means, Vehicles | 1 | 1 |
| Technic: Beams | 9 | 78 |
| Technic: Beams, Special | 5 | 45 |
| Technic: Connectors | 30 | 395 |
| Technic: Functional Elements | 2 | 12 |
| Technic: Functional Elements, Gear Wheels And Racks | 5 | 12 |
| Technic: Half Beams | 8 | 63 |
| Technic: Half Beams, Special | 2 | 8 |
| Total | 179 | 1194 |