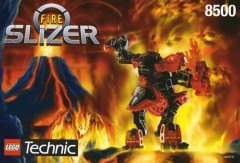 Notes

Slizers are known as Throw Bots in the US.

Bricklist notes

Torch, alongside many other Throwbots canister sets, has a functional style of construction based in the movement of gears which composes it's body. This system would later suffer soft modifications and become the simpler "Toa Mata" construction style.

In the case of the Throwbots, the movement of the gears makes the head and arms (or legs, in Torch's case) moves simultaneously.

The instruction booklet of Torch contains instructions for a fusion called "Robotops" composed of him; of 8501 Ski; 8502 Turbo and 8503 Scuba

I chose Torch to represent this style of building because he's the one with most differenciated design.