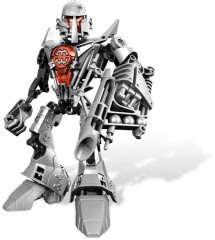 Bricklist notes

Duncan Bulk, as any other Hero Factory hero, follows the same poor construction pattern established since the Matoran of Light released in 2008.
The main difference in relation with the simplest Bionicle sets and those heroes are the new body, feet, armor and limb pieces.

Bulk, like 7164 Stormer and 7170 Stringer has a "fake arm", a massive piece which replaces an arm and hand, simulating both carrying a shooting weapon. But the weapon in fact doesn't shoot anything.

I chose Bulk because he has the new shade of silver in big quantity and an open helmet.