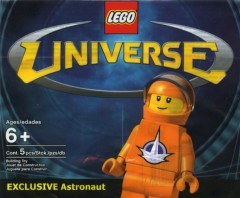 Pieces

5

Minifigs

Packaging

Polybag

Availability

Promotional

Set type

Extended
Notes

[UK/US] GExclusive Astronaut figure, given to customers who pre-ordered the LEGO Universe game in October 2010. Poly-bagged. Each pack contained a card with a unique code to enable an in-game version of the astronaut uniform as wearable equipment.

Bricklist notes

The Nexus Astronaut, also known as the Nexus Pilot, is a rare minifigure packaged with pre-orders of LEGO Universe.

While there is no in-game Nexus Astronaut character, the minifigure comes with a code card that allows players to unlock his costume in-game. After registering this code, players will receive a letter in their mailbox titled "Pre-Order Code Reward!" with an attached package. Opening this package will give players the Nexus Astronaut Helmet, Shirt, and Pants.

A character in the log-in screen is seen wearing the Nexus Astronaut Shirt and Pants, as well as Nexus Airtanks. After being chased around by a dragon, this character grabs a Nexus Astronaut Helmet in addition to a Sentinel Knight Rank 3 Sword and Shield. The tables turn, and this character starts chasing around the now-frightened dragon.

The Nexus Astronaut also appears in the LEGO Club Magazine comic "Crisis in Space" and Episode 7.1 of "The LEGO Club Show". These tell the story of the Nexus Astronaut, who teams up with Max to build a Nexus Force Rocket and escape the Venture Explorer.