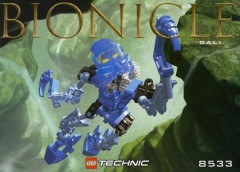 Bricklist notes

"I suppose that's enough talk of the past. We should start discussing what comes next, yes? For despite all our interesting elemental powers we may have, I expect that our best weapon is our minds."
— Toa Mata Gali, Tale of the Toa

Toa Mata Gali was the wise and noble Toa Mata of Water. She was gentle and kind, but was also extremely powerful, a side of her personality that she rarely displayed.

Gali, along with the rest of her team, was created by Artakha to awaken the Great Spirit, should the need to do so ever occur.