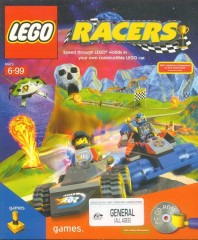 RRP

USA: $20.00

Packaging

Box

Availability

Retail

Set type

Gear
Bricklist notes

LEGO Racers was the predecessor of LEGO Racers 2.

Rocket Racer, the host of Circuit 7, returns as the final boss racer in LEGO Racers 2, along with his signature racecar. In the introduction cutscene, both Rocket Racer and his racecar appear as they did in LEGO Racers, but shortly afterward both his wardrobe and his racecar's color scheme receive an update which is carried on through the rest of the game. Players must beat Rocket Racer in "The Grand Finale" in order to win the title of Galactic Racing Champion.

It is worth noting that the facial expressions of many returning characters from the first game, including Johnny Thunder and Slyboots, are reused textures from the first game. Interestingly, Rocket Racer seems to be an exception to this, as all his facial expressions are unique to LEGO Racers 2.

Additionally, in the Gameboy Advance version of LEGO Racers 2, Scooter makes an appearance as a selectable opponent racer. Scooter originated from the first LEGO Racers game as one of the default playable characters.