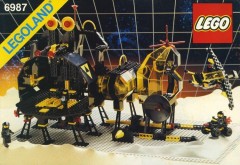 Pieces

569

Minifigs

Packaging

Box

Availability

Retail

Set type

Normal
Bricklist notes

The LEGO Space Realm is a dangerous, yet vast area featuring hundreds of planets and countless solar systems. When LEGO Mini-Figures first ventured into this vast interstellar cosmos all was peaceful and villains were never dreamed of.

Then one day, the planet of the Blacktron Space Pirates was discovered, and the battle between Good and Evil began. The Blacktron Space Pirates are a ruthless band of marauding villains who seek to find a secret source of power to fuel their galactic bids of conquest.

The First Generation Blacktrons are the most dangerous, they seek out many riches in their quest for raw power. The Blacktron are in constant battle against the Space Police, the M-Tron and the scientists of Ice Planet 2002. From their secret Message Intercept Base they decode and identify signals from across the vastness of LEGO Space Realm to hunt down their riches.