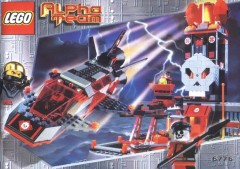 Bricklist notes

LEGO Adventure Realm is not simply one set place on the planet of LEGO Earth, it is a series of Eras which are connected via a plethora of time gates created inadvertantly by the Time Cruisers.

The Ultimate Enemy of LEGO Adventure Realm is the diabolical Lord Ogel, a being of cruel and despicable nature, Ogel plots the utter destruction of the entire LEGO Universe and his only adversary is the heroic LEGO Alpha Team. Lord Ogel is the source of all of Adventure Realm's woes, his schemes extend beyond the mere mundane and enter the super villainous.

If not for the heroic Alpha Team led by Dash, Lord Ogel would have succeeded in his mad plans.