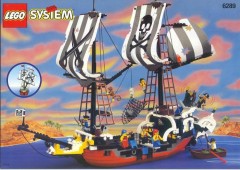 Notes

Also named "Pirates' Battle Ship" and "The Marauder".

Related sets

Re-released as 6290-1

Bricklist notes

Captain Red Beard, the most notorious Pirate to sail the seven LEGO seas, his fleet of pirate ships and scurvy crew are the bane of the Imperial Soldiers existence. They are the most armed and most prepared crew of pirates off the Western seaboard.

Traveling through the spanish manes Red Beard recruited more villainous crew for his armada of sailing vessels, of which the Red Beard Runner is the flagship. Though not as large as the Black Seas Barracuda, the Red Beard Runner is fast, faster than most Imperial Navy vessels. Red Beard himself is a scurvy dog what takes no lip from no-one, he lost his hand in his first major battle against Governor Broadside and has been seeking vengence for the slight ever since.