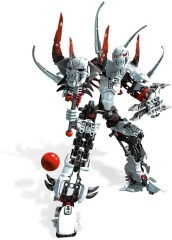 Bricklist notes

Witch Doctor is the apex of this building system. Not only he passed all the Bionicle sets with this price (30 USD) in piece quantity (with 331 pieces, plus 30 in comparison with 2008's Mazeka [8954]), he's also the most different and complex HF Figure, bringing up tons of red ball-joints and new connectors. It's a big source of pieces.

But still, he has clear additive design. He's by no means functional and his legs, even though inventive, are somewhat disappointing in playability, with an entire section/junction blocked backwards. His height is impressive compared to other HF sets, but he still suffers of the T-rex arms' problems. His weapons are just too small, and it ends up that his "staff" seems much more like a rattle (maybe it was intentional, for a voodoo wizard). The arms as well draw its form from the mainstream Fire-Lord/Rocka XL build. Just a normal arm with an extension to the back to add more armor.

In the end, it is the most far the designers got with the system. Of course it has major flaws (and no eyes...) but nothing that requires too much additional pieces to fix it. Completely worth the price, something quite rare telling of today.