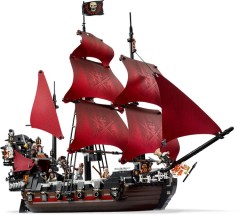 Bricklist notes

The ship itself. I would do several things to it.

1. Cannons. Instead of three, use ten, so every space for cannons are filled up. And instead of one box full of cannonballs have a couple, and possibly a few cleaners. (Make sure they're all firing cannons, not ones for show.)

2. Front Skeleton. This is completely optional, but after seeing the movie, The fire pieces (which should change to the newer and larger piece introduced in 2009) should go onto the front, closer to the bottom. I'd also change the skeleton body to white, and change the fantasy era head to an older, evil skeleton head. I would also change the arms for the new and bent ones, and possibly change the items in hand to two gold cups, two spears, or one of each.

3. Blackbeard's Cabin. I would enlarge it, so the space inside is more free. Also, expand the Desk so it looks more like a desk. You could also put the Captain Jack Voodo doll minifigure in here if you wanted.

4. Boat section. Again, this is optional, but I would make the hull more tall and slightly longer.

Minifigures: Take all minifigures from this set. You can keep this Captain Jack (Hat and coat) and I would also keep the other kind. (No coat or hat)
Also take multiples of the Quartermaster Zombie for the crew.