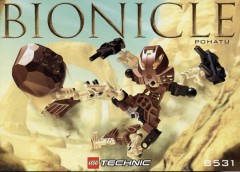 Bricklist notes

An example of a Toa Mata set.

Their body piece included some likeness from the body piece of their predecessors (Throwbots/Slizers), though it was an entire piece with addition of many Technic pieces and gears. The limbs were connected to the body through simple Technic axles connected to "hand" pieces.

The functions were manual, and could be controlled through a bigger Gear located in the back of the set's body.

Pohatu was my choice to represent his series of canister as his construction has a major difference among the other Toa Mata sets: His body is built in the inverse form, making him the smaller of the Toa Mata (or at the same size of the set 8532 - Onua), though it required more pieces to complete him (he has a total of 49 pieces, including a brown Lego System Rock).

The differences in the playability are: Through gear functions, he moves one of his legs instead of an arm. He has no weapon to make the masks of the Rahi fall, but he uses his feet additions to kick the ball into them.

The Toa Mata has combiner models:
Toa kaita Wairuha (Combo of 8533, 8535 and 8536)
Toa kaita Akamai (Combo of 8531, 8532 and 8534)

The colors in those sets were all fresh and clear schemes, colors which characterizes the Mata Nui Era. Nowadays, Pohatu's Brown and Lewa's Green are practically exctinct in the theme.